Description
1). Control range: 2.6 million pixels, the maximum horizontal support is 3840 pixels, and the vertical maximum support is 1920 pixels.
2). Signal switching: Supports arbitrary switching between 2 HDMI sync signals and 1 USB signal.
3). USB playback: Supports direct playback of videos and pictures in various mainstream formats in the root directory of the U disk, and supports up to 1080P high-definition video playback.
4). Audio input/output: Support 2-channel HDMI audio input (choose one of two for playback), 1-channel TRS 3.5mm standard two-channel audio output.
5).Output network port: standard 2-way Gigabit Ethernet port, directly cascade receiving card.
6). Brightness setting: support one-key adjustment of brightness, no need for cumbersome operations.
7). Button lock: lock the button to prevent the display from being abnormal due to misoperation.
8). Wireless control: support infrared remote control to switch programs, brightness settings and other functions.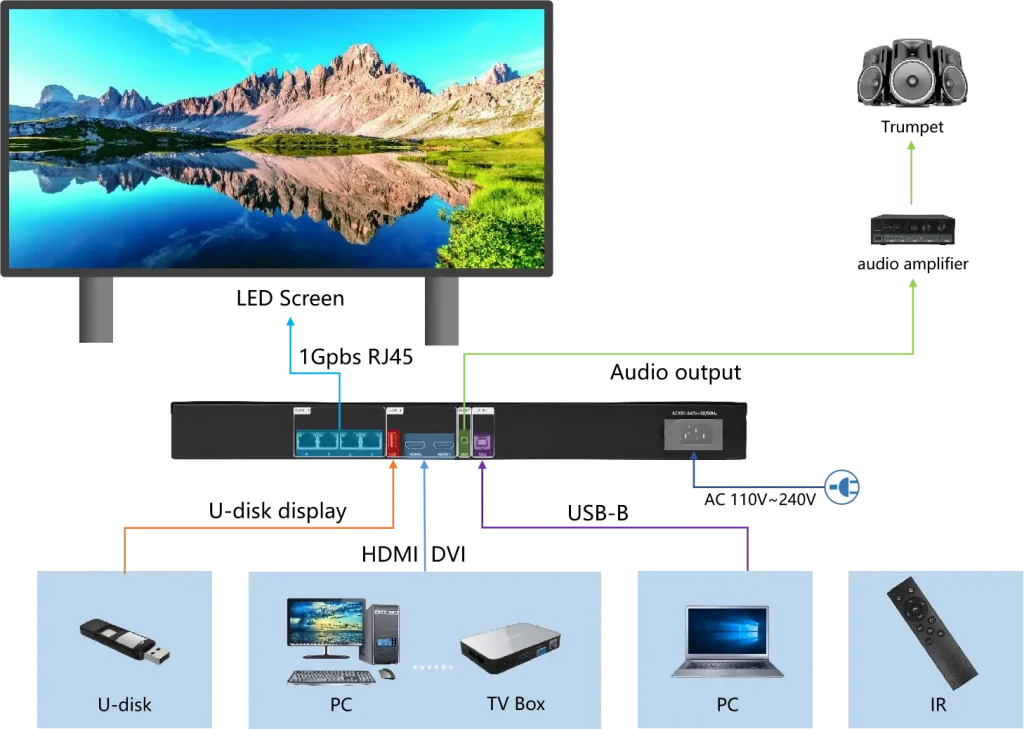 Function
Parameter
HDMI video input
2

Interface form: HDMI-A

Signal standard: HDMI1.3 backward compatible

Resolution: VESA standard, ≤1920×1080p@60Hz

USB(Type A) media playback
Video and picture file playback in U disk, support video within 1080P

Image file formats: jpg, jpeg, png and bmp

Video file formats: mp4, avi, mpg, mkv, mov, vob and rmvb

Video encoding: MPEG4 (MP4), MPEG_SD/HD, H.264 (AVI, MKV), FLV

AUDIO IN
Audio input
Network Port Output
4-way Gigabit Ethernet port output interface, connected to the receiving card

Each network port carries 65W pixels, and 4 network ports carry a total of 260W pixels

The widest support is 3840 pixels, and the maximum support is 1920 pixels

Square USB port (Type B)
Connect to PC, and use HDSet software to debug parameters of sending card and receiving card, upgrade program, etc.
Weight
Dimension (mm)
see specification