Description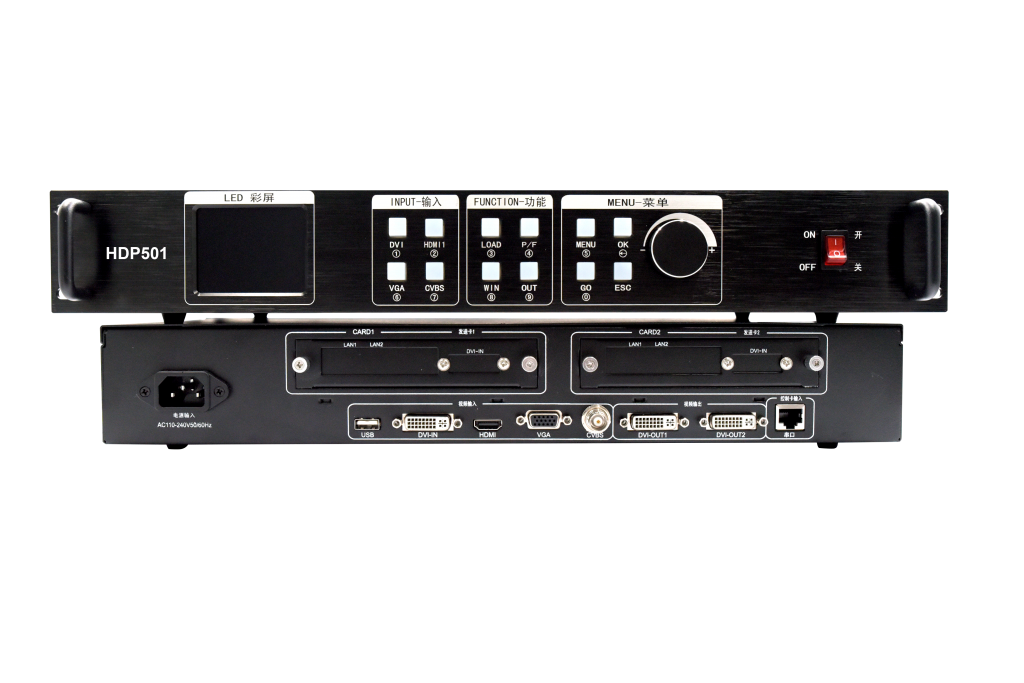 Product Specifications
Video processor HDP-501
V1.2 20180118
Overview
HDP501 is a powerful single-screen video processor.
Support USB play video directly – Play USB video files(720P), perfect compatible with common video formats.
Navigation function- This navigation is suitable for most situations, the setup is simple, debugging follow the prompts to achieve the desired display gradually
Practical video output input interface – The LED501 processor has a USB input port, a digital video interface (DVI), a high definition video input (HDMI), an analog input (VGA), a composite video input ), 2 DVI output interface, 1 serial port.
Output Resolution-HDP501 output resolution can reach 1920 × 1200 @ 60Hz or 1440 × 1600 @ 60Hz large resolution, the user can set the output.
Support one-button black screen – black screen function is an essential operation, during the performance process in the performance process , you need to turn off the image output, you can use this function to achieve fast black screen.
Save function – You can save the current settings, save up to thirty two groups of parameters, click the corresponding button to save the parameters to the corresponding mode.
Key lock – lock the key to prevent misuse of the operation keys to change settings.
Application Scenes
Simultaneous display of computer / TV / video cameras and other video playback equipment.
Connection diagram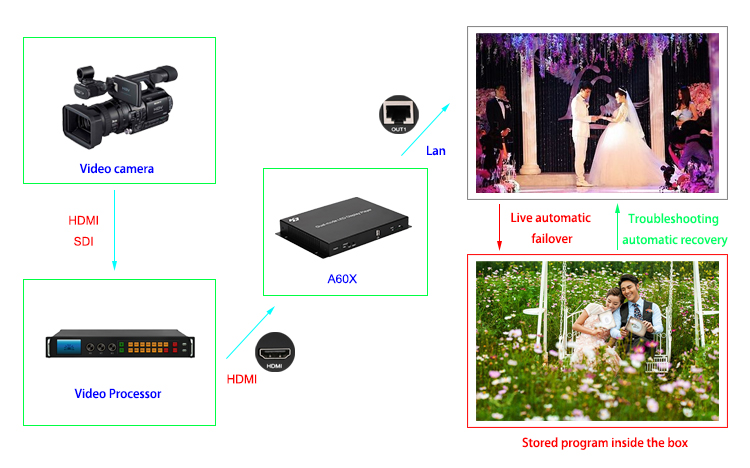 Simultaneous display of camera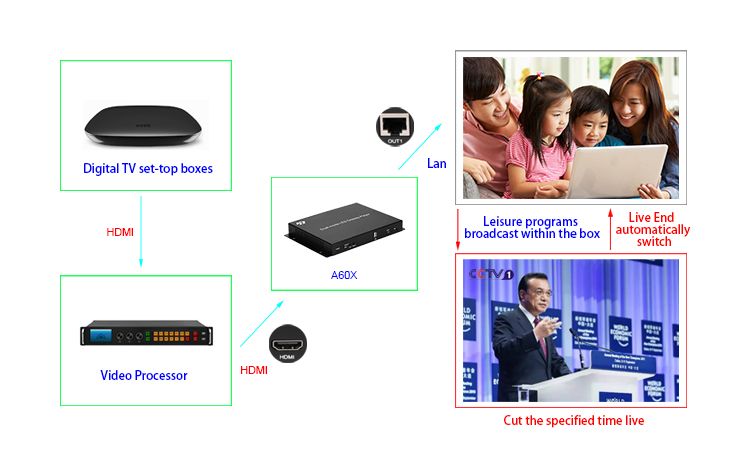 Simultaneous display of set-top box screen
Features
1)Any channel seamlessly switch;
2)5 channel digital video input;
3)Key lock;
4)Maximum output resolution,1920 x1200@ 60Hz; 1440 × 1600 @ 60Hz, can be customized settings;
5)Support one-button black screen ;
6)preset Scene save and recall;
System function list
DVI video input
1 DVI video input

Interface form: DVI-I socket

Signal standard: DVI1.0, HDMI1.3 backward compatible

Resolution: VESA standard, PC to 1920×1200, HD to 1080p

HDMI video input
1 HDMI video input

Interface form: HDMI-A

Signal standard: HDMI1.3 backward compatible

Resolution: VESA standard, ≤ 1920 × 1080p @ 60Hz

VGA video input
1 VGA video input

Interface form: DB15 socket

Signal Standard: R, G, B, Hsync, Vsync: 0 to1Vpp ± 3dB (0.7V Video + 0.3v Sync)

75 ohm black level: 300mV Sync-tip: 0V

Resolution: VESA standard, ≤ 1920 × 1080p @ 60Hz

Composite video input (video)
1 Composite video input (video)

Interface form:BNC

Signal standard:PAL/NTSC 1Vpp±3db (0.7V Video+0.3v Sync ) 75 ohm

Resolution:480i,576i

USB media player
U disk video files(Max 720P)

MPEG4 (MP4), MPEG_SD / HD, H.264 (AVI, MKV), FLV

DVI video output
2×DVI

Interface form: DVI-I socket, DB15 socket

Signal Standard: DVI Standard: DVI1.0 VGA Standard: VESA

Resolution: 1024 × 768 @ 60Hz1920 × 1080 @ 60Hz 2304 × 1152 @ 60Hz

1280 × 720 @ 60Hz1920 × 1200 @ 60Hz 2560 × 816 @ 60Hz

1280 × 1024 @ 60Hz 1024 × 1280 @ 60Hz

1440 × 900 @ 60Hz 1536 × 1536 @ 60Hz

1600 × 1200 @ 60Hz 2048 × 640 @ 60Hz1024 × 1920 @ 60Hz

2048 × 1152 @ 60Hz

Custom Resolution Width ≤1920 Height ≤1600 (2.4 million pixels within the point)

Weight(Kg)
3.0
Size (mm)
Chassis size: (length) 432mm * (width) 246mm * (height) 66.6mm
Appearance Description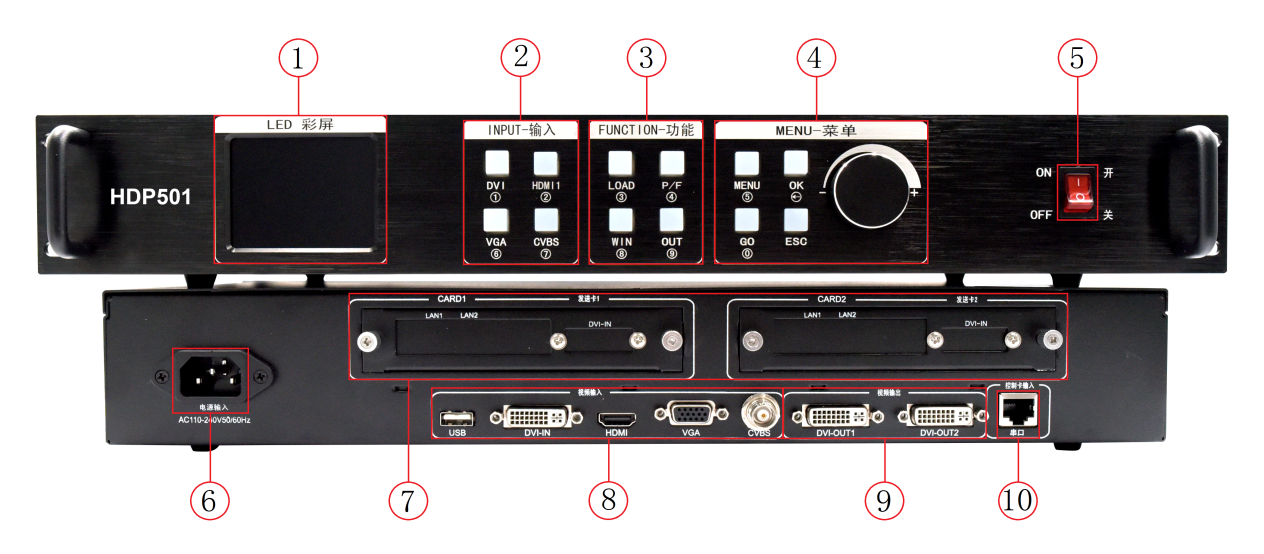 Text display, display menu, parameters and other information;
INPUT- Input: DVI- Digital Signal Channel Key, HDMI- HD Multimedia Channel Key, VGA- Analog Video Signal, CVBS- Composite Video Signal;
FUNCTION- Function: LOAD-mode call, P / F-partial display button, WIN-screen switch, OUT-one-touch black screen;
MENU-Menu: MENU-Menu key, OK-Confirm key, Navigation mode click to enter the next interface, GO-navigation key, ESC- ESC key, ADJUST- knob to increase and decrease, press to confirm;
POWER-equipment switch;
Power Interface: 110-240V, 50 / 60HZ;
Send card 1, send card 2;
Input Interface: USB Input, DVI, HD Video Input (HDMI), Analog Input Input (VGA), Composite Video Input (CVBS)
Output Interface: DVI 1, DVI 2;
Serial port: used for firmware upgrade;
Technical Parameters
| | | | |
| --- | --- | --- | --- |
| | Minimum | Typical value | Maximum |
| Rated voltage (V) | 110VAC | 240VAC | 240VAC |
| Storage temperature (℃) | -40 | 25 | 105 |
| Working environment temperature (℃) | 0 | 25 | 45 |
| Working environment humidity (%) | 0.0 | 10 | 90 |