Description
1. New generation Faroudja® Real Color® professional LED video processor , 10+ Bit Faroudja® DCDI Cinema Processing Faroudja® TureLife™ videoenhancer.
2.SeamlessSwitching、FadeinFadeoutSwitching、Blend Switching
3.Twosignalswitching ways:one keyswitchandPre.+Takeswitch
4. 3 sets of custom dualpicture display mode, one key switch between modes. Any PIP/PBP display. AIAO(Any In Any Out) function, any interception andanyoutput.
5. Inputsignalhotsparefunctiontoensureoutputmorestable.
6. CustominputDVIEDIDtorealizeperfectpixeltopixeldisplay.
7.Custom output format. Single unit maximum output horizontal 3840 pixelsorvertical1920pixels.
8. DVI input port supports APPLE PC. DVI Loop unlimited cascade to realize sync. mosaic to drive indefinite LED lattice. Frame sync technology . No miss alignment or delay between two adjacent image outputs.
9.Avariety ofcontrolmethods:wirelessWIFI、 IP/LAN、 frontpanelbutton、 infraredremote control、PC software,Ipad、mobile phone terminaland etc..Flexibleoperation.
10.2 channels configurable external audio inputs. Plus HDMI、DP and SDI audiototal5channelsaudiosyncswitch.
11. Built in 2 pieces LED sending cards(compatible 4 RJ45 ports sending cards.Cardsareoptional.)
12. 24/7application,highreliabilityandstability
LVP615 series product model description
*LVP615: Extend interface optional 1×CVBS
*LVP615S:Extend interface optional 1×SDI/HD-SDI/3G-SDI
*LVP615D:Extend interface optional 1×VGA/DVI/HDMI
*LVP615U: Extend interface optiona 1×Wi-Fi+2×USB
Feature one:Wireless Wi-Fi control&remote control

Feature two:PIP/PBP,text overlay

Feature three:Synchronic Multi-uit In Parallel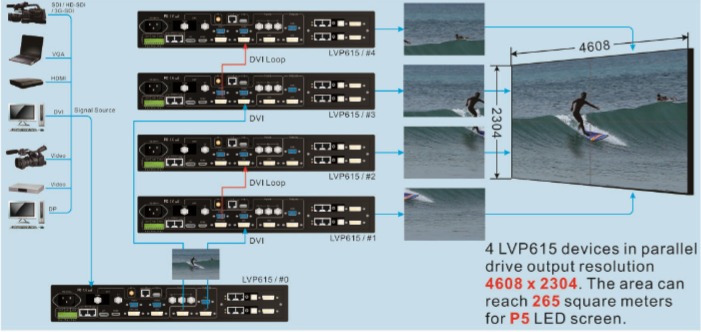 Inputs
Number/type
2×Video

1×YPbPr

2×VGA(VESA)

1×DP(VESA)

1×DVI(VESA)

1×HDMI(VESA/CEA-861)

1×EXT.(extended Video/DVI-I/SDI)

Video system
PAL/NTSC
Composite video amplitude/Impedance
1V(p_p)/ 75Ω
YPbPr format
SD/HD(CEA -861)
YPbPr

Amplitude/Impedance

Y= 1.0V(p_p)/ 75Ω

Pb= 0.35V(p_p)/ 75Ω

Pr= 0.35V(p_p)/ 75Ω

VGA format
PC(VESA)
≤2048×1152 _60Hz
VGA Amplitude/Impedance
R、G、B = 0.7 V(p_p)/ 75Ω
DP format
DisplayPort1.1(VESA)
DVI format
PC(VESA)
≤2304x1152_60Hz
HDMI1.3(CEA -861)
Custom output format
width≤3840 height≤1920
HDMI format

(HDCP1.3)

PC(VESA)
≤2304x1152_60Hz
HDMI1.3(CEA -861)
≤1920x1080p_60Hz
SDI format
SMPTE259M-C SMPTE 292M

SMPTE 274M/296M

SMPTE 424M/425M

480i_60Hz

576i_50Hz

720p、1080i、1080p

Audio
2.0Vp-p/10KΩ
Input connectors
Video:BNC

YPbPr:BNC×3

VGA:15pin D_Sub(female)

DP:DisplayPort SMT female 20pin

DVI:24+1 DVI_D

HDMI:HDMI port A type

SDI :BNC

Outputs
Number /Type
1×VGA(RGBHV)

2×DVI

VGA/DVI resolution
1024×768_60Hz/75Hz

1080×1920_60 Hz

1200×1600_60 Hz

1280×1024_60Hz/75Hz

1366×768_60Hz

1440×900_60Hz

1536×1536_60 Hz

1600×1200_60Hz

1920×1080p_50Hz/60Hz

1920×1200_60 Hz

2048×1152_60Hz

2304×1152_60Hz

2560×816_60Hz

Custom output format(maximum output horizontal 3840 pixels or vertical 1920 pixels.)

VGA Amplitude/Impedance
R、G、B = 0.7 V(p_p)/ 75Ω
Output ports
VGA OUT:15pin D_Sub( female)

DVI OUT1:24+1 DVI_D

DVI OUT2:24+1 DVI_D

others
Control methods
Wireless wifi,IP/LAN,front panel button,infrared remote control, PC software,Ipad, mobile phone terminal and etc..
Input voltage
100-240VAC 50/60Hz
Maximum power consumption
≤25W
Environment  temperature
0-45 ℃
Environment humidity
15-85%
size(package)
130mm(H)×350mm(W)×520mm(L)
Weight
G.W.:5.7 Kg, N.W.:4.0 Kg