Description

Overview
The Huidu HDP601 Video Processor is a powerful single-window video processor.
USB play video and picture—play video files and picture files in U disk, support video within 720P, perfect compatible with common video formats, support video and picture mixed play.
Practical video output input interface—HDP601 video processor has 2 USB input interfaces, 1 digital video input interface (DVI), 1 HD video input interface (HDMI), 1 analog input interface (VGA), 1 composite Video input interface (CVBS), SDI (optional); 2 DVI output interfaces, 1 audio output interface (AUDIO).
Output resolution – HDP601 output resolution can reach a large resolution of 1920 × 1280 @ 60Hz (within 2.45 million points, the widest 1920, the highest 1280).
Support screen switching—The input signal source can be switched freely, and seamless switching between channels can be achieved. When switching, the screen function between each channel follows.
Support one-button black screen—black screen is an indispensable operation during the performance. When the image output needs to be turned off during the performance, you can use the black screen button to achieve a fast black screen.
Preset—You can save the current settings, save up to ten preset parameters, and click the corresponding button to save the parameters to the corresponding mode.
Key Lock—Locks the button to prevent accidental pressing of the operation button during operation to change the setting.
Application scenario
Displaying the screen of a video playback device such as a computer/TV/camera synchronously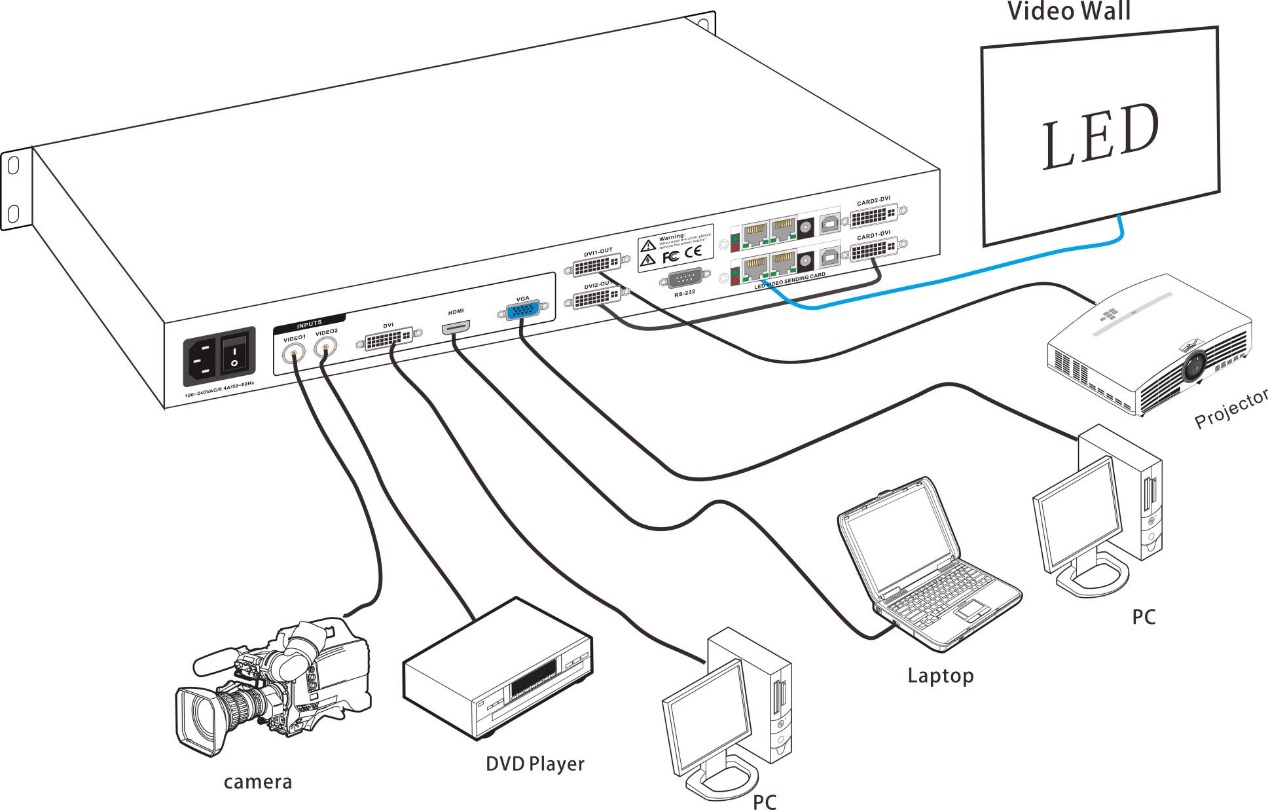 Connection diagram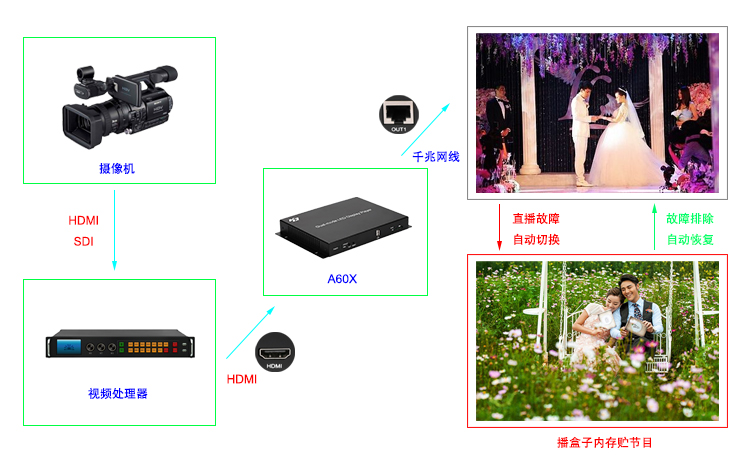 Display camera images synchronously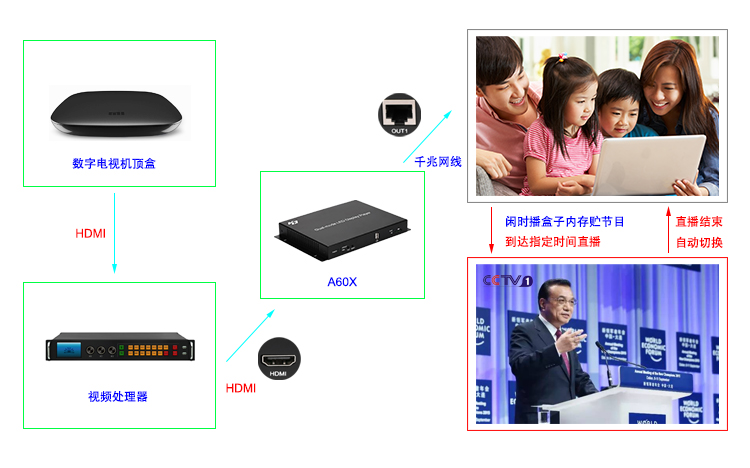 Display the set-top box screen synchronously
Characteristics
1) Seamless switching of any channel, audio and video synchronous switching;
2) 5-channel digital-analog video input, USB supports video and picture mixed playback;
3) Key lock;
4) Large output resolution, 1920 × 1280 @ 60Hz;
5) Support one button black screen;
6) Scene preset save and call;
7) Signal hot backup.
System function list
DVI INPUT
1

Interface form: DVI-I socket

Signal standard: DVI1.0, HDMI1.3 backward compatible

Resolution: VESA standard, PC to 1920×1200, HD to 1080p

HDMI INPUT
1

Interface form: HDMI-A

Signal standard: HDMI1.3 backward compatible

Resolution: VESA standard, ≤ 1920 × 1200, HD to 1080p

VGA INPUT
1

Interface form: DB15 socket

Signal standard: R, G, B, Hsync, Vsync: 0 to 1Vpp ± 3dB (0.7V Video + 0.3v Sync )

75 ohm black level: 300mV Sync-tip: 0V

Resolution: VESA standard, ≤ 1920 × 1200 @ 60Hz

Composite video input

(video)

1

Interface form: BNC

Signal standard: PAL/NTSC 1Vpp±3db (0.7V Video+0.3v Sync) 75 ohm

Resolution: 480i, 576i

USB playback input
2 (2 select 1) video standard: 1280×720@60Hz (rm, rmvb, mp4, mov, mkv, wmv, avi, 3gp);

Image standard: jpg, jpeg, png, bmp.

DVI video output
2×DVI

Interface form: DVI-I socket

Signal standard: DVI standard: DVI1.0 VGA standard: VESA

Resolution: 1024×768@60Hz 1920×1080@60Hz

1024×1280@60Hz 1920×1200@60Hz

1280×1024@60Hz 1920×1280@60Hz

1600×1200@60Hz

weight
3.5kg
尺寸(mm)
Case size: (length) 440mm* (width) 250mm* (height) 58mm
Appearance description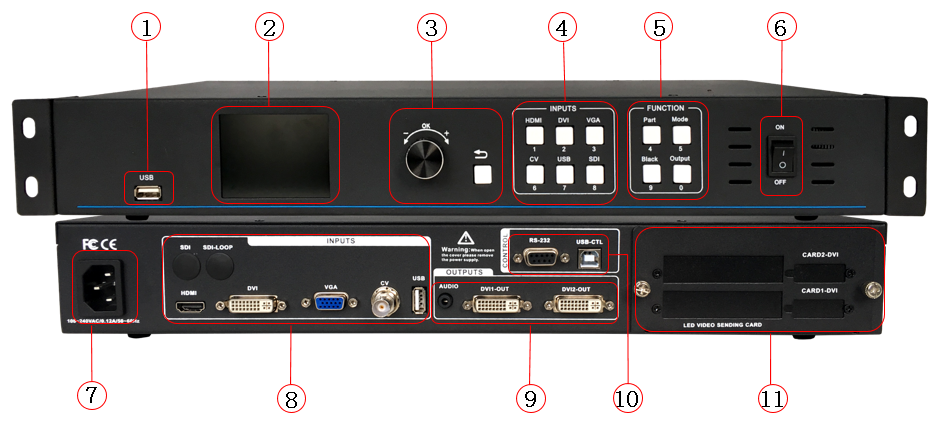 USB playback interface;
LCD;
Rotate button: adjust knob to enter menu, adjust parameters, return button: can exit menu;
Input switching, you can choose between the fast cut or select the fade effect between any sources;
Function menu, full screen or partial switching display, can switch state with one button switch, black screen and screen freeze, scene preset, output parameter setting;
POWER-device switch;
Power interface: 110-240V, 50/60HZ;
Input interface: USB input, digital video interface (DVI), high definition video input (HDMI), analog input (VGA), composite video input (CVBS), SDI (optional);
Output interface: DVI 1, DVI 2, audio (AUDIO);
Serial port: used for firmware upgrade;
Card slot: Used to install the sending card.
Technical Parameters
| | | | |
| --- | --- | --- | --- |
| | Minimum | Typical value | Maximum |
| Rated voltage (V) | 110VAC | 240VAC | 240VAC |
| Storage temperature (°C) | -40 | 25 | 105 |
| Working environment temperature (°C) | 0 | 25 | 45 |
| Working environment humidity (%) | 0.0 | 10 | 90 |
| Working power (W) | \ | \ | 11 |