Description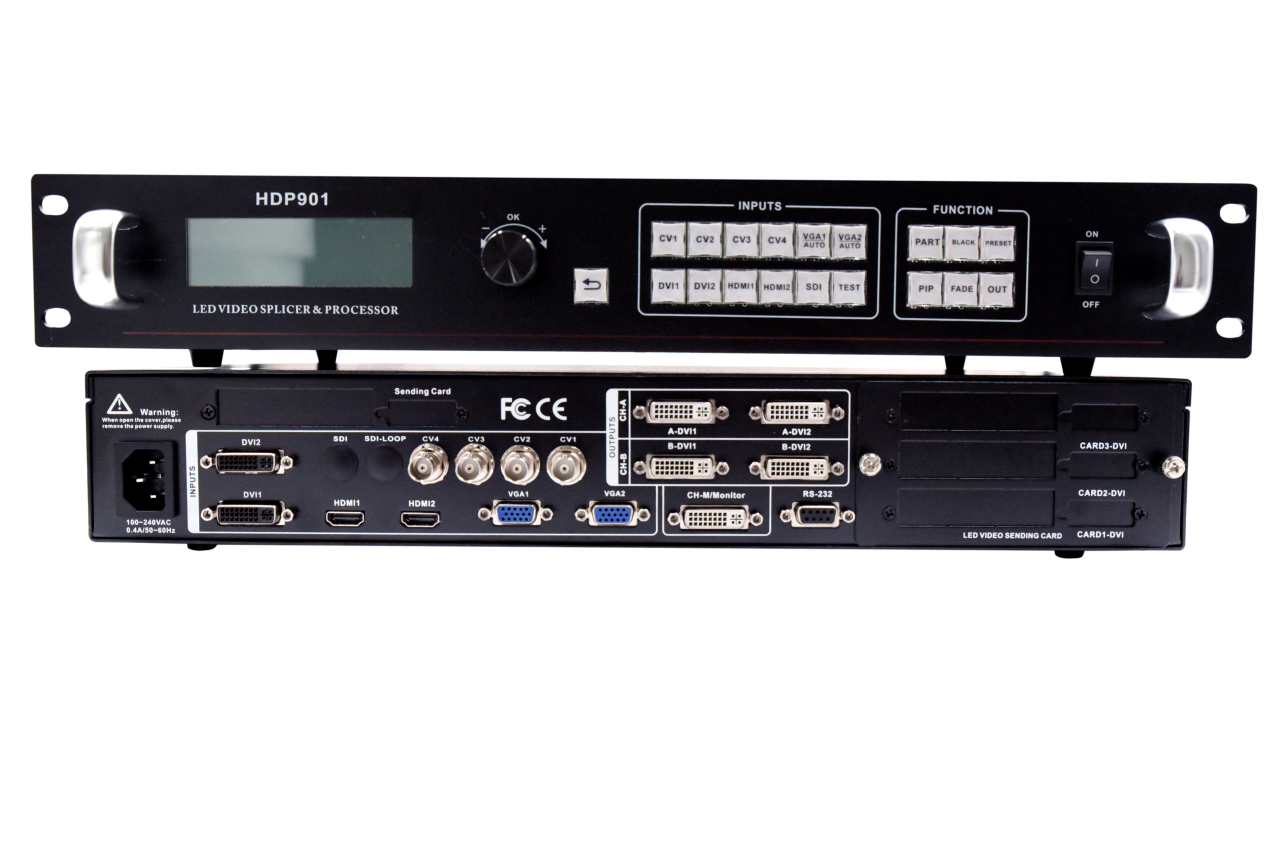 Huidu HDP901 Video Processor Overview
Huidu HDP901 Video Processor is a flexible, versatile 11-channel LED video processing & splicer with 2-channel splicing and 1-channel monitoring output.
Multi-channel video input—The HDP901 features 11 video inputs including 4 Video, 2 VGA, 2 DVI, 2 HDMI and 1 SDI (optional). All video input switch and can achieve fast cut and fade switch effect
Practical video output interface—The processor has 6 video outputs, 5 DVI and 1 SDI-LOOP(optional).
Any channel seamlessly switch—HDP901 video processor can also be seamlessly switched between any channel, the switching time from 0 to 1.5 seconds adjustable. Use the fade transition effect, when switching the input channel, you can make the screen smooth switch to the second screen. Use fast switching, switching input channels, you can instantly switch the video output.
Rich output resolution—HDP901 designed for the user a number of practical output resolution, 530W pixel custom resolution, the most up to 7680 points, the highest of 2160 points, for a variety of dot matrix display. Up to 20 kinds of output resolution for the user to choose, and can be adjusted to the point-to-point output.
Support pre-switching technology—Pre-switching technology, is to switch the input signal, predict the input channel is switched in advance whether there is a signal. This feature reduces the possibility of direct errors due to line disconnection or no signal input, resulting in an increase in the success rate of the performance.
Support PIP—PIP technology, the original image in the same state, superimposed on another input the same or different picture. HDP901 picture-in-picture function, not only can be adjusted overlay layer size, location, border, etc., you can also use this function to achieve painting (POP), dual-screen display.
Project lock—The user can set the number of aircraft to use, when reached the number of uses, the device can stop working.
Support screen freeze—In the process of playing, it may be necessary to freeze the current picture to achieve a "pause" picture. When the screen is frozen, the operator can also change the current input selection or change the line, etc., to avoid background effects affect the performance.
Part and full-screen fast switching—HDP901 has a simple and practical interception part of the screen operation and full-screen operation, any input channel can independently set different interception effects, and each channel can still achieve seamless switching. Users can set the current channel interception part of the screen size and location, and other channels of the interception of the same way. When switching between the various channels to achieve part of the screen or screen features to follow.
Preset call function—HDP901 adopts 4 groups of user preset, each group of user preset can store all the user setting parameters.
Unequal splicing and splitting splicing—Stitching function is an important part of HDP901, it can achieve the same splice splicing and unequal splitting, greatly meet the needs of users in the splicing. In multiple processors to achieve a frame synchronization, 0 delay, no tail and other technology, the show perfect smooth. Unequal splicing and the screen part of the output for the same setting, the user can read the instructions in detail in the chapters.
30 Bit image lossless scaling technology—HDP901 uses a dual-core image processing engine, a single core can handle 30-bit image scaling technology can be achieved from 64 ~ 2560 pixels output, while achieving 10 times the magnification of the image output, that is, the maximum screen of 25600.
Real time setting and existing technology—That is, the existing technology saves users tedious setup and manual storage process, that is, the user does not need to manually save the parameters after adjusting or adjusting the parameters. The HDP901 automatically saves the user parameters in the EEPROM even after the power is turned off, The parameters remain in the device.
Application scenario
Synchronize display of computer / TV / video cameras and other video playback equipment.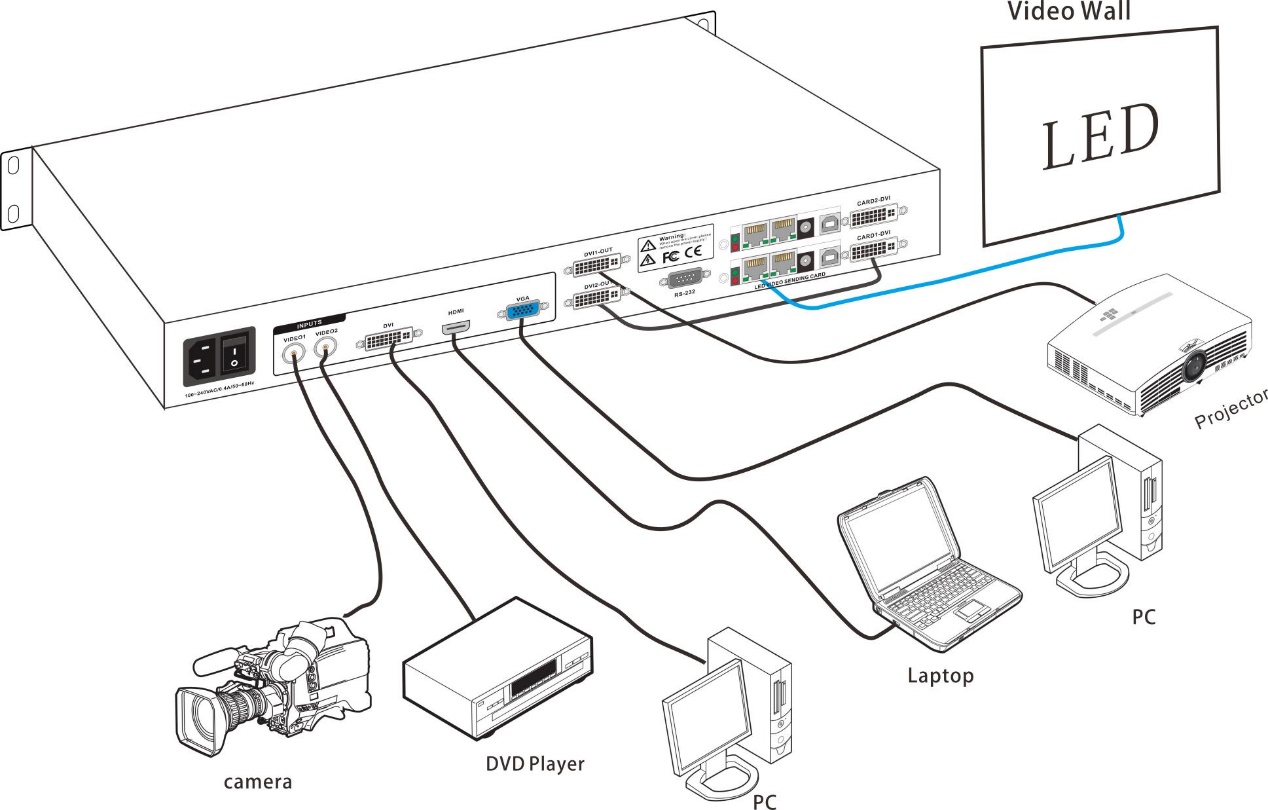 Connection diagram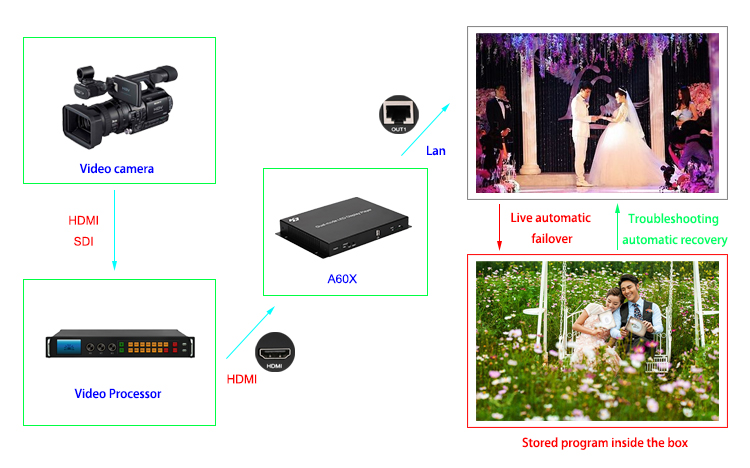 Synchronize display of camera screen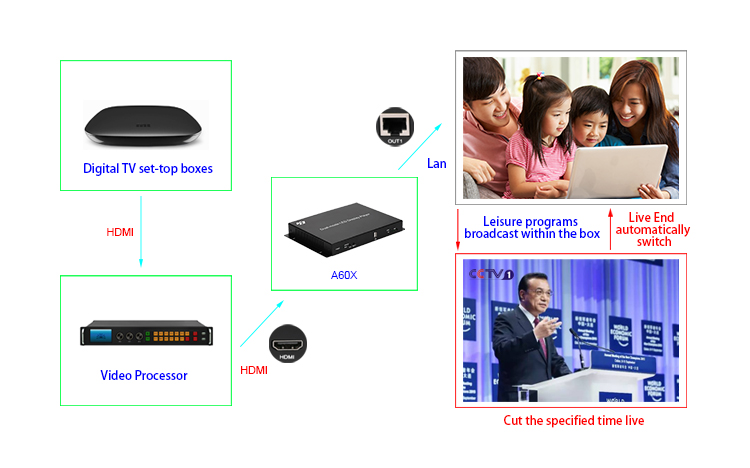 Synchronize display of set-top box screen
Features
1)Any channel seamlessly switch;
2)11 channel digital video input (SDI input optional);
3)Support multi-machine splicing, 2-channel splicing, 1-channel monitoring output;
4)Maximum output resolution,7840 x640@60Hz,4608×1152@60Hz;
5)PIP function;
6)Chroma key cutout function function;
7)Scene presets save and recall;
8)Part or full screen switch;
9)Engineering lock can be set;
10)Support PC control and timing switch function;
11)5.3 million pixel custom resolution output;
12)4 send card built-in installation bit.
System function list
Video input
Description
Quantity / signal type
4 * composite video PAL、NTSC、PAL-M/N、SECAM

2 * VGA VESA standard,hightest 1920×1080@60Hz

2 * DVI VESAstandard,hightest1920x1080@60Hz

2 * HDMI 480i/p、576i/p、720p、1080i/p,

Deep color support 8、10、12 bit

1 * SDI(optional) 1080p 60/50/30/25/24/25(PsF)/24(PsF)

720p 60/50/25/24

1080i 1035i

625/525 line

Connector
5*BNC socket  composite video input

SDI input (optional)

2*15 PIN HD socket RGB input

2*DVI-I socket DVI input

2*HDMI socket HDMI input

Resolution range
640×480~1920×1080 480i/p、576i/p、720p、1080i/p、2048×1080

Point to point sampling

Go blank

Video processing
Description
Analog sampling
Each color 12 bit;13.5 MHz standard(video)

170 MHz standard (RGB)

Digital pixel data bit depth
Each channel 8、10 or 12 bit;

2 channel used for HDMI

3GHz standard(SDI)

Video output
Description
Quantity / signal type
1* VGA Converted by image resolution RGBHV, RGBS,

RGsB

5* DVI Digital video (meet the VESA standard)

1* SDI-LOOP SDI Signal loop out (optional)

Connector
4* DVI-I socket DVI Programming output,

1* DVI-I socket Monitor output interface

1* BNC socket SDI-LOOP output(optional)

Resolution after image resolution conversion (parameters only express maximum parameter value or limit value and are backward compatible)
Output A or B or M
Custom resolution:A&B
1024×768@60Hz

1024×1280@60Hz

1280×1024@60Hz

1440×900@60Hz

1536×1536@60Hz

1600×1200@60Hz

1920×1080@60Hz

1920×1200@60Hz

2048×640@60Hz

1024×1920@60Hz

1920×1280@60Hz

1280×720@50Hz

1920×1080@50Hz

2048×1152@60Hz

2304×1152@60Hz

2560×960@60Hz

3840×640@60Hz

@60Hz:265*2=5.3 million pixels

3840×1380@60Hz

7680×640@60Hz

2560×1920@60Hz

@30Hz: 530*2=10.6 million pixels

3840*2160@30Hz

weight
4kg
size(mm)
Chassis size:(lenth, width, height)483×280×69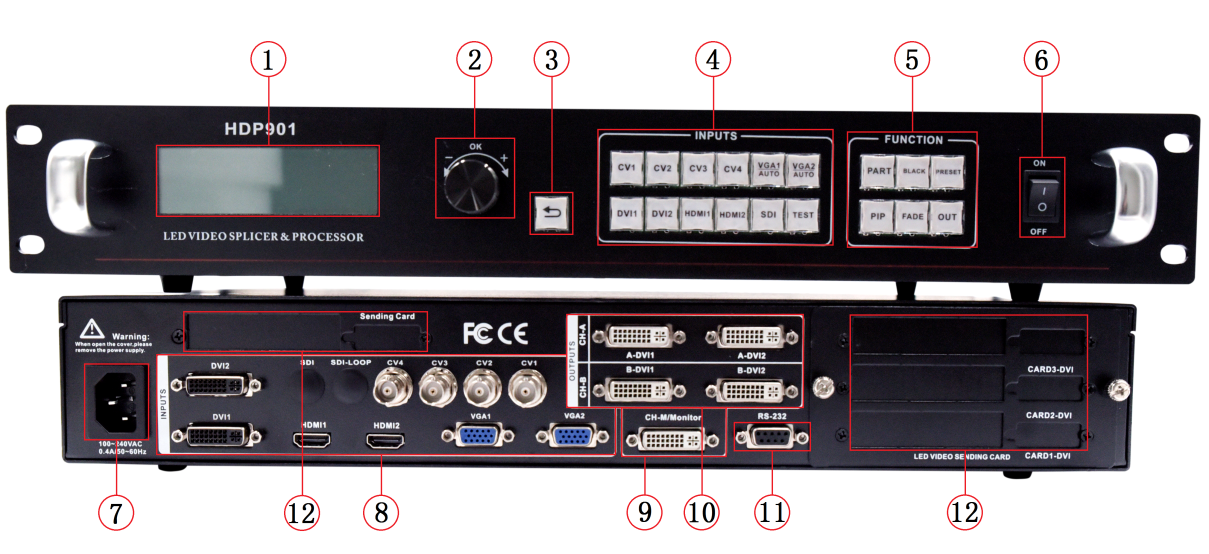 Appearance Description
LCD LCD screen: Intuitive LCD interface, direct operation of the button control can fine-tune the image settings;
Rotate button: the direction of the menu position adjustment, the button to enter the menu, adjust the parameters;
return key;
INPUTS:(CV1,CV2,CV3,CV4,VGA1,VGA2,DVI1,DVI2,HDMI1,HDMI2)You can choose between any source fast cut or fade out of the switching effect;
Test (TEST): Press to output the test screen, press again to select the test screen; SDI: Select this key function as SDI input in the menu.
FUNCTION:Full-screen or partial area switch (PART): Set splicing parameters in the splicing menu, you can switch the status of a key switch;
Black (BLACK): a key black screen;
PRESET: Convenient and quick retrieval of preset scenes;
PIP: Just press a button to switch PIP, the parameters in the PIP menu settings; Switching effects (FADE): Seamless switching or fade;
Output Settings (OUT): Output Resolution Settings.
power supply switch;
power supply connector:100~240VAC,0.4A,50~60HZ;
INPUTS:4*CV,2*VGA,2*DVI,2*HDMI,SDI(optional);
CH-M/Monitor:Displays the user's live image position and switching effects;
OUTPUTS: 4*DVI,CH-A,CH-B two group signal;
RS-232:For internal control;
sending card installation:Support 4 send card installation, compatible with universal LED full color send card.
Technical Parameters
| | | | |
| --- | --- | --- | --- |
| | MIN | Typical | MAX |
| ratedvoltage(V) | 100VAC | 240VAC | 240VAC |
| Storage temp(℃) | -40 | 25 | 105 |
| Working temp(℃) | 0 | 25 | 45 |
| environment humidity(%) | 0.0 | 10 | 90 |