What are the benefits of using wireless LED control cards for outdoor LED displays?
After buying and installing the display screen, a Canadian customer wanted to know how to replace the displayed media information in the future, so he specifically asked the after-sales engineer of buyledcard. In response to this problem, buyledcard's after-sales engineer told the customer that his LED display uses a wireless LED control card, so only simple settings are required to remotely control the display of screen information. Here, we briefly introduce some of the benefits of the wireless LED control card.
The benefits of using a wireless LED control card for outdoor LED display
1. Simple operation and convenient information release
The LED display screen is connected to the server through wireless communication. You only need to use related software or log in to the cloud platform built by the server for simple settings, and it can be used to publish advertising content and control the LED screen, which is convenient and fast.
2. Cluster control, saving time and effort
Outdoor LED display screens generally have the two prominent characteristics of large number and wide distribution, and each card of wireless LED control card corresponds to an IP number, and a single IP address or multiple IP addresses can be controlled through the cloud platform, which greatly simplifies The work of later program release; through 2G/3G/4G wireless communication, as long as there is a signal, no matter how far away and how wide the distribution, you can remotely control the LED display.
3. Real-time interstitial mechanism of emergency information to spread advertisements quickly
This is the most prominent advantage of the wireless LED control card, which is especially suitable for government agencies such as the Meteorological Bureau and the Public Security Bureau. If you need to insert emergency notification information, you only need to select the LED screen that needs to be played through the software, and immediately upload the emergency notification information, very fast convenient.
4. Simple installation and high cost performance
The wireless LED control card sets the relevant screen adjustment parameter buttons and adapts the LED display through the programmed program, which is convenient and simple to adjust the parameters of an LED display. There is no need to connect to the computer for such a troublesome debugging process; the computer is omitted Or a series of costs such as the receiving card, as well as the labor costs for later management, the cost-effectiveness of the wireless LED control card is very high.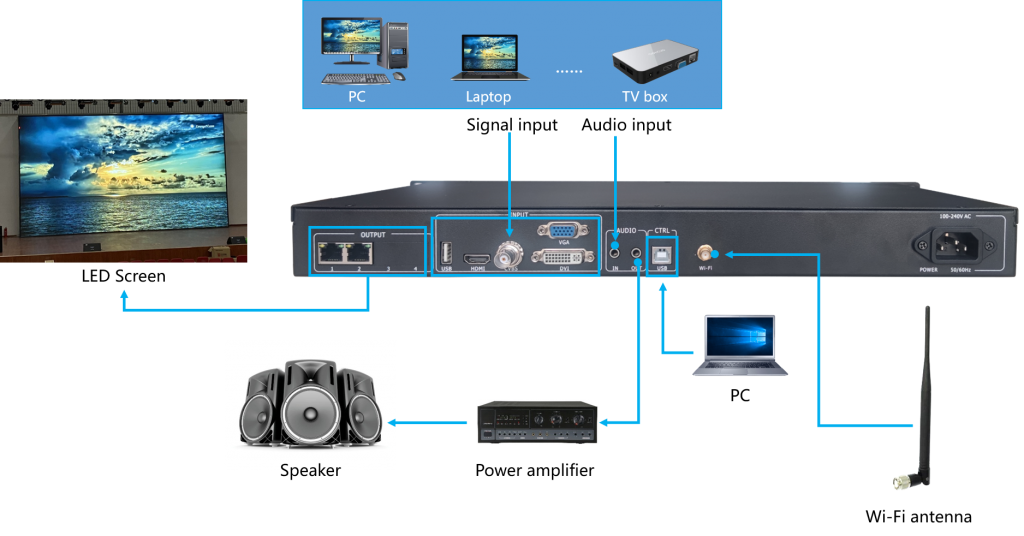 Application of wireless LED control card
1. Community building: Install wireless LED control card strips at the entrances of communities, buildings, and yards, as community information bulletin boards, to facilitate the property and residents to publish property notices, public welfare information, community announcements, community information, etc., which is helpful The integration and dissemination of community information, purify the community environment, and enhance the image of the community;
2. Advertising media: The wireless LED control card can be embedded in advertising light boxes, outdoor advertisements, signboards and street signs to release instant advertisements and information, which can effectively improve the overall advertising effect and expand the audience rate of advertising;
3. Traffic station: Install wireless LED control card screens in station waiting rooms, toll stations, and platforms as electronic bulletin screens for publishing bus information, weather forecasts, various advertisements, real-time news, traffic conditions, ticketing information, Temporary notice, etc.;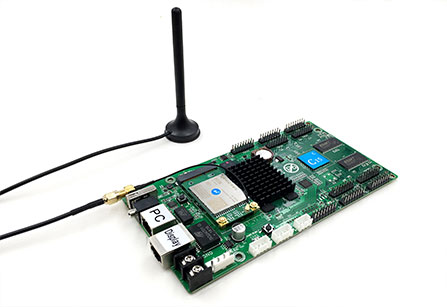 4. Traffic vehicles: Install wireless LED control card screens on public buses, urban taxis, subway vehicles and railway trains to release city news, weather forecasts, traffic conditions, commercial information, etc.;
5. Government departments: install the LED control card in the working hall of the government department as a public notice board for government affairs, which is used to publish government policies, announcements, public opinion surveys, emergency notices, warning reminders, weather information, laws and regulations, etc.; wireless LED control The card can become a standard terminal for the information release and early warning system of industry departments such as meteorology, safety, transportation, water conservancy, fire protection, civil affairs, public security, and urban management;
6. Stores and supermarkets: Install wireless LED control card screens at the door of the store, supermarket entrance, lobby, and shelf to release shopping guide tips, supply and demand information, price quotations, promotional discounts, new product introductions, merchant recommendations, customer greetings, etc. It is a window through which businesses guide customers' media and information dissemination, which helps attract consumers and promote the dissemination of business information.