Description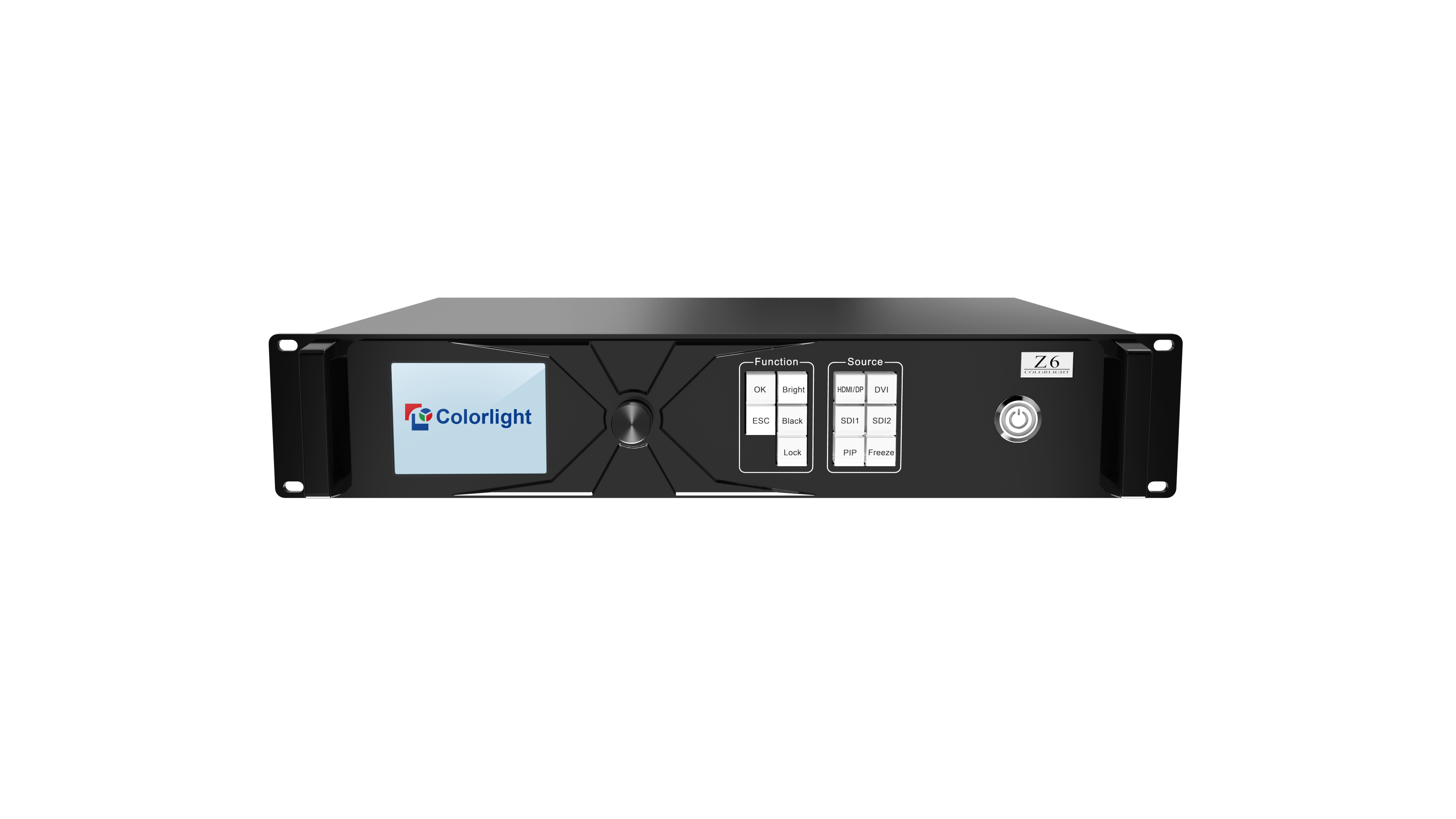 Z6 Super Controller
Z6 Super Controller
Overview
Z6 Super Controller is a professional LED display controller. As video splicer, processor and sender in one combined, Z6 has 4K video input capability, UHD and HDR images processing and transmission. Z6 can be applied to high-end rental display and high resolution LED display perfectly.
Features
Video input ports including 2×SDI, 1×HDMI2.0, 1×DP1.2, 4×DVI;
Supports input resolution up to 3840×2160@60Hz;
Loading capacity: 8.3 million pixels,maximum width: 8192 pixels,maximum height: 4096 pixels;
Supports HDR;
Supports 8,10 and 12 bits;
Low latency;
The input images can be spliced and scaled according to the screen resolution;
Supports three PIPs, the location and size can be adjusted freely;
Supports splicing and cascading among several controllers with synchronization strictly;
Supports brightness and color temperature adjustment;
Supports better gray at low brightness;
Supports HDCP2.2;
Compatible with all receiving cards, multifunction card and optical fiber transceivers of Colorlight.
Hardware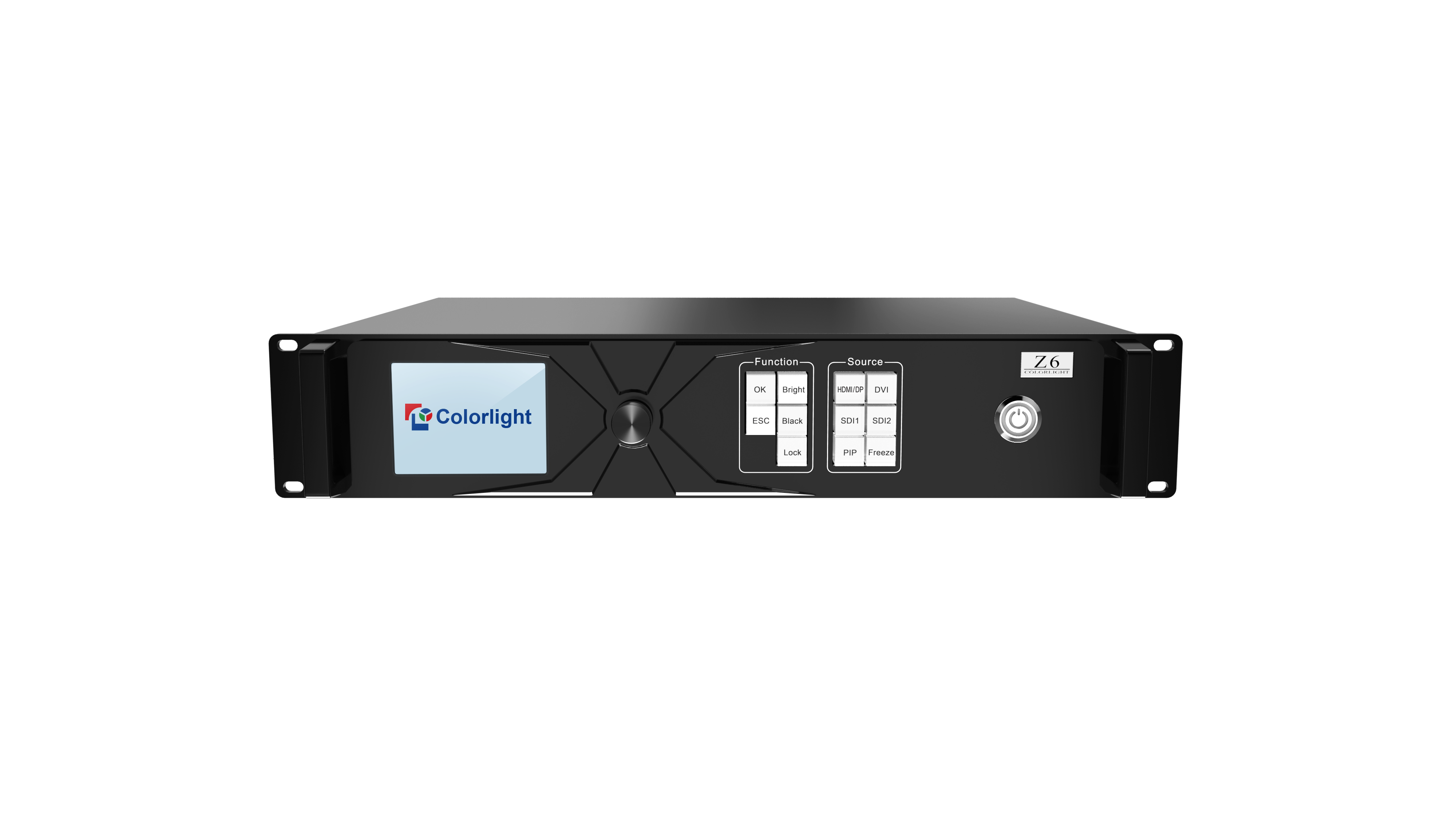 The Front Panel
No.
Name
Function
1
3.5-inch LCD
Display operation menu and system information
2
Knob
Turning knob to select or adjust
3
Function keys
OK:Enter key

ESC:Escape current operation or selection

Bright:Brightness options

Black:Blank screen

Lock:Lock keys

4
Selection keys
PIP:PIP switch

Freeze:Freeze screen

HDMI/DP/DVI/SDI1/SDI2: Video source selection
The Back Panel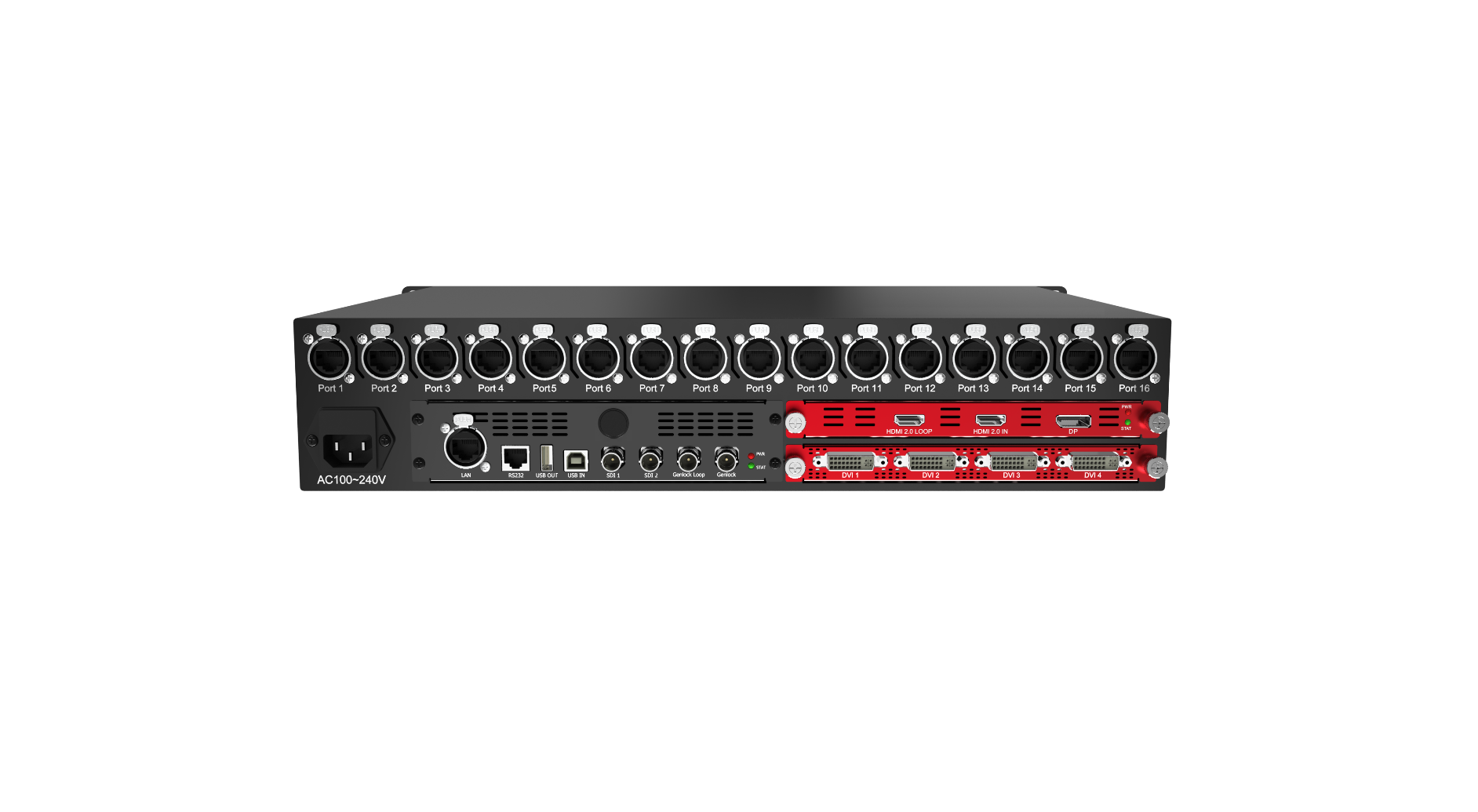 Input Interface
1
SDI
2×3G-SDI
2
HDMI
1×HDMI 2.0+LOOP
3
DP
1×DP 1.2
4
DVI
4×DVI
Output Interface
1
Gigabit Ethernet
16 Neutrik Gigabit Ethernet outputs
Controlling Interface
1
LAN
100M-Ethernet Control port (communication with PC, or access network), and can be used as Artnet control port
2
USB_IN
USB input, which connect with PC to configure parameters
3
USB_OUT
USB output, cascading with next controller
4
Genlock
Genlock signal input ensures synchronism of display image
5
Genlock Loop
Genlock synchronous signal loop output
6
RS232
RJ11(6P6C)*,used to communicate via 3rd party interfaces
Power
1
AC 100~240V
AC Power Interface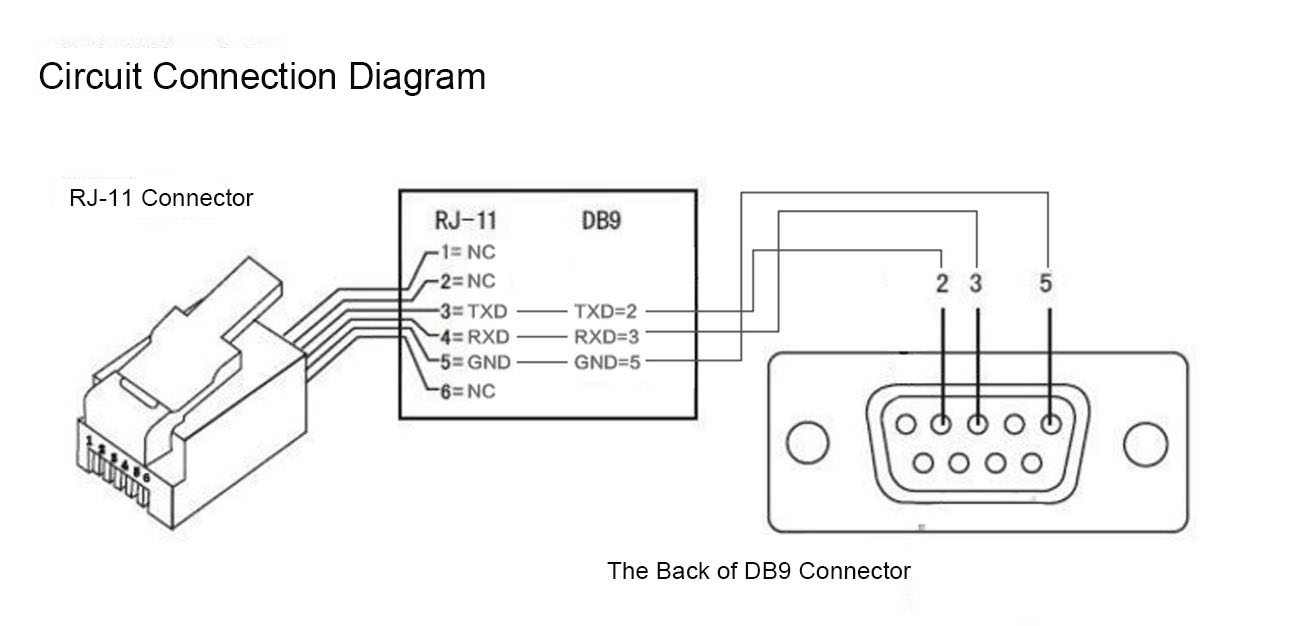 Specifications
Input Index
Port
Number
Resolution Specification
Remarks
SDI
2
1080p,1080i,720p
8bit supports YCbCr422
HDMI
1
EIA/CEA-861 Standard,in Accordance with HDMI-2.0 Standard,Support HDCP2.2
3840×2160@60Hz
8bit supports RGB444,YCbCr444, YCbCr422, YCbCr420

10bit supports YCbCr422, YCbCr420

1920×1080@60Hz
8/10bit supports RGB444,YCbCr444, YCbCr422, YCbCr420
DP
1
VESA DP1.2 Standard, Support HDCP1.3
3840×2160@60Hz
8bit supports RGB444,YCbCr444, YCbCr422, YCbCr420

10bit supports YCbCr422, YCbCr420

1920×1080@60Hz
8/10bit supports RGB444,YCbCr444, YCbCr422, YCbCr420
DVI
4
VESA Standard,Support HDCP
1920×1080@60Hz
8/10bit supports RGB444,YCbCr444, YCbCr422, YCbCr420
Output Index
Color Depth
Resolution Specification
8bit
3840×2160@60Hz
10bit
2880×2160@60Hz
Specification of Complete Machine
Size
2U standard box
Input Voltage
AC100~240V
Rated Power Consumption
70W
Working Temperature
-20℃~60℃
Ambient Humidity
0-95%,non-condensing
Weight
9kg
Dimension
Unit:mm