Description

i6 Receive Card is  part of  LED Display Control System. Colorlight I6 Receive Card is a high-end and universal receiver card specially introduced in color flash, with a small size, with 63 * 33mm; it uses DDR2 SODIMM interface to easily integrate into the line board or unit panel of the LED display, implement the LED display module High integration, which greatly promotes the design of the LED display unit and the structure.
Features
Tiny size: 68*36mm, DDR2 SODIMM interface, easy for maintenance
Support 32 groups of RGB signal output
Loading capacity: 256*256 pixels
Low latency
Supports Auto-Calibration
Seam compensation
Support 3D display
Improved grayscale performance at low brightness
Smart panel marking good for maintenance
Auto-recognizes sequence of connected receiver cards
High-precision point-by-point calibration in the brightness and the chromaticity
Supports smart module to save calibration coefficients and other information on module
Temperature, humidity, power supply voltage monitoring on cabinet and fan rotating control
Cable Detection
Supports receiver card backup and power supply backup
Various freeform display designs like spherical display, creative display, etc.
Specifications
Control system parameters
Sending device
All of Colorlight's sending devices
Capacity
Full-color: 256*256 Pixels
Cascade Control Area of the Largest Region
65536*65536 Pixels
Network Port Exchange
Supported, arbitrary use
Gray Level
Maximum 65536 Levels
Display module compatibility
Chip Supports
Supports conventional chips, PWM chips, lighting chips and other mainstream chips.
Scan Mode
Two scanning methods to support refresh rate multiplier
Scan Type
Supports static sweep to 1/32 scan
Module Specifications Support
Supports 4096 pixels within any row, any column
Cable Direction
Supports route from left to right, from right to left, from top to bottom, from bottom to top.
Data Sets
32 RGB data sets
Data Folded
Supports 1~8 any discount to improve refresh rate.
Data Exchange
32 sets of data any exchange
Module Snapshot
Supports any pumping point
Compatible device and interface type
Communication Distance
UTP cable≤140M

CAT6 cable≤170M

OPTIC FIBER transmission distance unrestricted

Compatible with Transmission Equipment
Gigabit switch, fiber transceiver, optical switches.
Size
67.6*35.5mm
Input Voltage
DC 3.3V~6V
Rated Current
0.5A
Rated Power
2.5W
Storage and Transport Temperature
-50℃~125℃
Operating Temperature
-25℃~75℃
Body Static Resistance
2KV
Weight
9.5g
Monitoring function (in conjunction with multi-function card)
Temperature Monitoring
Cabinet temperature monitoring between -25℃ ~ 75℃

1 port for each card

Humidity Monitoring
One port to monitor receiver card humidity range with 20% ~ 95%

1 port for each card

Bit Error Monitoring
Monitoring the total number of data packets and error rate to check network quality
Supply Voltage Monitoring
5 ports for supply voltage monitoring
Full Color LCD Display Panel
Supports full color LCD display panel
Pixel level calibration
Brightness Calibration
Supported
Chromaticity Calibration
Supported
Other features
Hot Backup
Supports loop backup, double sender backup
Shaped Screen
Supports various freeform display, spherical display, creative display, etc. through the data arbitrary offset
Program Backup
Proprietary redundant firmware backup on card no matter how to use, upgrade, send parameters, continuous functionality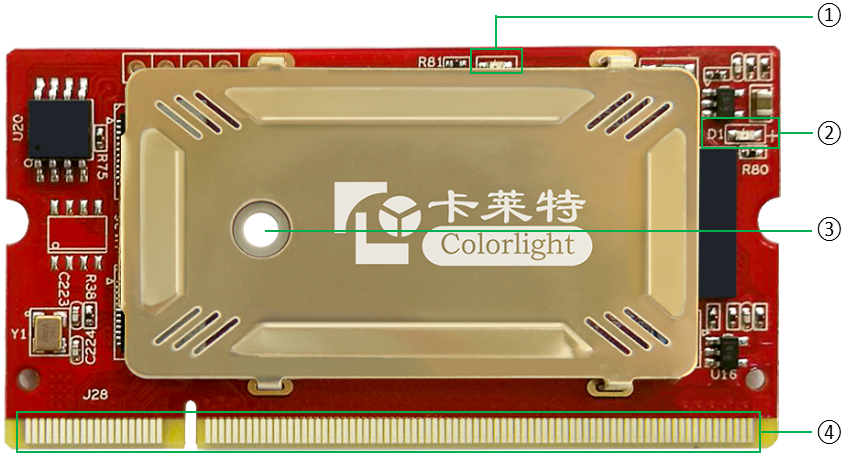 Hardware
Interface
| | | | |
| --- | --- | --- | --- |
| S/N | Name | Function | Remarks |
| 1 | Signals indicator light | The indicator light flashes rapidly (about 5-10times/second) to show that the data signal transmission is normal. | |
| 2 | Power indicator light | Red indicator light shows that the power supply is normal | |
| 3 | Fixed hole | Used to reinforce the receiving card to improve vibration resistance | |
| 4 | DDR interface | Connects with display's HUB board or unit plate | From the diagram above, the left side of the guide plate is first pin (Viewing from the front of card) |
Figure for size and hole position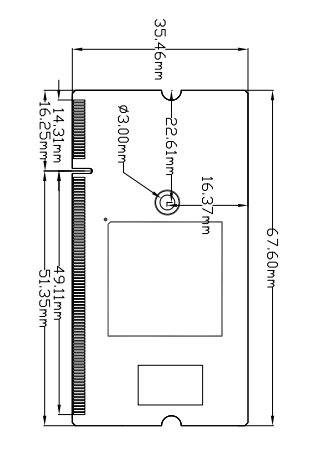 Definition of Pins
Definition of Pins
Instructions
Definition
Pin No.
Definition
Instructions
Ground connection
GND
1
2
D5V
Power supply
GND
3
4
D5V
GND
5
6
D5V
GND
7
8
D5V
GND
9
10
D5V
GND
11
12
D5V
Do not connect
NC
13
14
NC
Do not connect
Network port 1 signal pin

Recommended use isolation transformer

eth1_p1
15
16
eth2_p1
Network port 2 signal pin

Recommended use isolation transformer

eth1_n1
17
18
eth2_n1
NC
19
20
NC
eth1_n2
21
22
eth2_n2
eth1_p2
23
24
eth2_p2
NC
25
26
NC
eth1_p3
27
28
eth2_p3
eth1_n3
29
30
eth2_n3
NC
31
32
NC
eth1_n4
33
34
eth2_n4
eth1_p4
35
36
eth2_p4
Do not connect
NC
37
38
NC
Do not connect
Ground connection
GND
39
40
GND
Ground connection
Indicator light
LED_BTN_LED
41
42
A
Display control:
1. ABCDE for row decoding signal;
2. LED_LAT for signal lock
3. LED_OE control LED display enable, like a switch, it is GCLK when the led display use PWM chip;
Temperature

monitoring

LED_TEMP
43
44
B
Humidity monitoring
LED_HUM
45
46
C
Fan control
LED_FAN
47
48
D
Blanking
LED_CTRL
49
50
E
The first CLK
LED_SCLK
51
52
LED_LAT
The second CLK
LED_SCLK_S
53
54
LED_OE
GND
55
56
GND
RGB output of part A: A total of 8 groups of RGB, corresponding with LED_SCLK
LED_R1
57
58
LED_R2
RGB output of part B: A total of 8 groups of RGB, corresponding with LED_SCLK_S
LED_G1
59
60
LED_G2
LED_B1
61
62
LED_B2
LED_R3
63
64
LED_R4
LED_G3
65
66
LED_G4
LED_B3
67
68
LED_B4
LED_R5
69
70
LED_R6
LED_G5
71
72
LED_G6
LED_B5
73
74
LED_B6
LED_R7
75
76
LED_R8
LED_G7
77
78
LED_G8
LED_B7
79
80
LED_B8
LED_R9
81
82
LED_R10
LED_G9
83
84
LED_G10
LED_B9
85
86
LED_B10
LED_R11
87
88
LED_R12
LED_G11
89
90
LED_G12
LED_B11
91
92
LED_B12
LED_R13
93
94
LED_R14
LED_G13
95
96
LED_G14
LED_B13
97
98
LED_B14
LED_R15
99
100
LED_R16
LED_G15
101
102
LED_G16
LED_B15
103
104
LED_B16
Ground connection
GND
105
106
GND
Ground connection
GND
107
108
GND
RGB output of part C : A total of 8 groups of RGB, corresponding with LED_SCLK

It can become part A's check back and circuit signal detection of return

LED_R17
109
110
LED_R18
RGB output of part D : A total of 8 groups of RGB, corresponding with LED_SCLK_S

It can become part A's check back and circuit signal detection of return

LED_G17
111
112
LED_G18
LED_B17
113
114
LED_B18
LED_R19
115
116
LED_R20
LED_G19
117
118
LED_G20
LED_B19
119
120
LED_B20
LED_R21
121
122
LED_R22
LED_G21
123
124
LED_G22
LED_B21
125
126
LED_B22
LED_R23
127
128
LED_R24
LED_G23
129
130
LED_G24
LED_B23
131
132
LED_B24
LED_R25
133
134
LED_R26
LED_G25
135
136
LED_G26
LED_B25
137
138
LED_B26
LED_R27
139
140
LED_R28
LED_G27
141
142
LED_G28
LED_B27
143
144
LED_B28
LED_R29
145
146
LED_R30
LED_G29
147
148
LED_G30
LED_B29
149
150
LED_B30
LED_R31
151
152
LED_R32
LED_G31
153
154
LED_G32
LED_B31
155
156
LED_B32
Ground connection
GND
157
158
GND
Ground connection
Save correction coefficients in module
LED_SPI_SCK
159
160
LED_SPI_SDI
Save correction coefficients in module
LED_SPI_CS1
161
162
LED_SPI_CS2
LED_SPI_SDO1
163
164
LED_SPI_SDO2
LED_SPI_CS3
165
166
LED_SPI_CS4
LED_SPI_SDO3
167
168
LED_SPI_SDO4
LED_SPI_CS5
169
170
LED_SPI_CS6
LED_SPI_SDO5
171
172
LED_SPI_SDO6
LED_SPI_CS7
173
174
LED_SPI_CS8
LED_SPI_SDO7
175
176
LED_SPI_SDO8
Extended functional interface for customized features
LED_M1
177
178
LCD_CTRL1
The interface to connect LCD display
LED_M2
179
180
LCD_CTRL2
LED_M3
181
182
LCD_CTRL3
LED_M4
183
184
LCD_CTRL4
LED_M5
185
186
LCD_CTRL5
LED_M6
187
188
RCV_BK1
Vacant signal for double backup receiving card
LED_M7
189
190
RCV_BK2
Do not connect
NC
191
192
NC
Do not connect
NC
193
194
NC
NC
195
196
NC
NC
197
198
NC
Ground connection
GND
199
200
GND
Ground connection