Description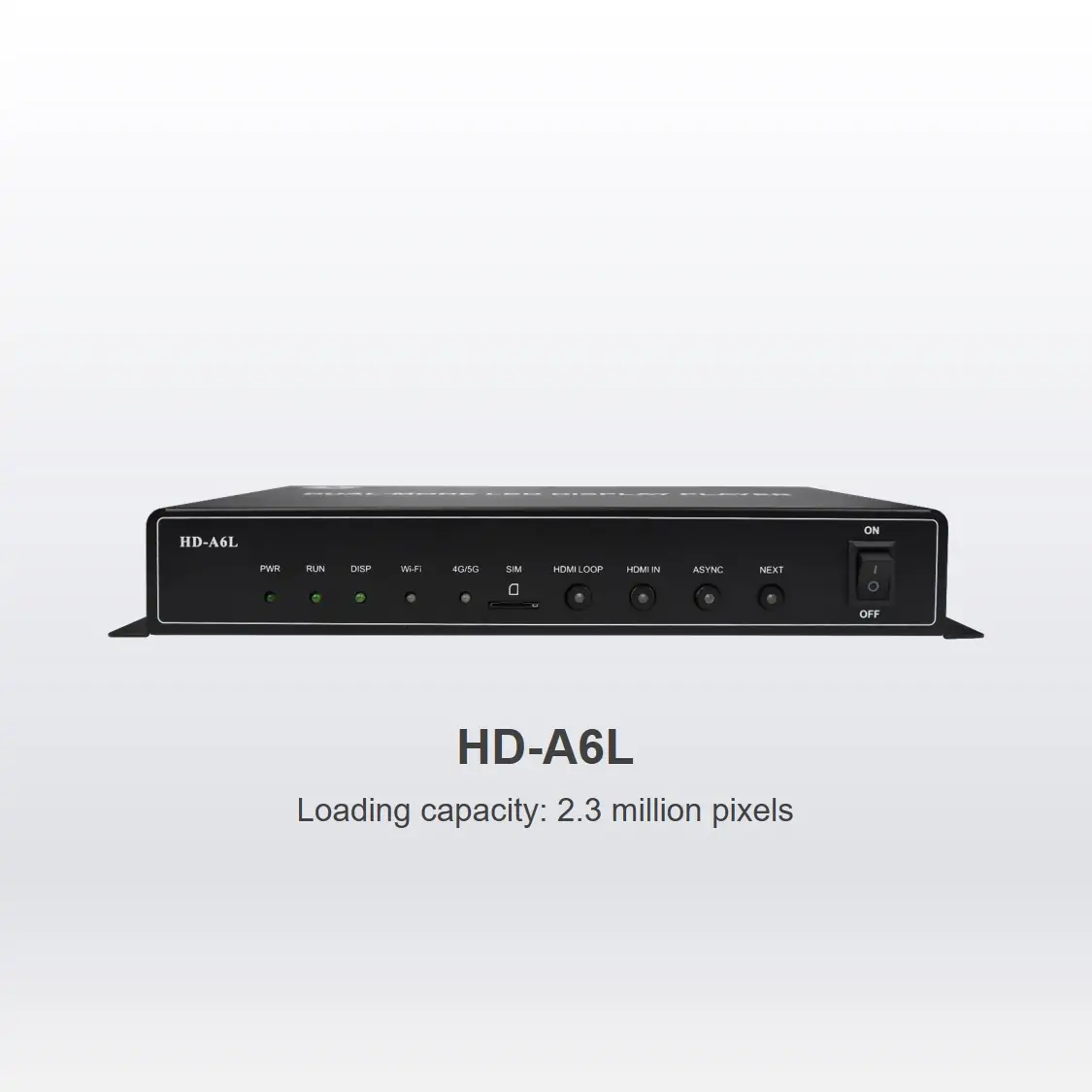 Ⅰ. Product Overview
A6L is an LED display multimedia player that supports playing videos, pictures, GIF animations, texts, WPS documents, tables, clocks, timing, and other programs. It integrates functions such as
asynchronous playback, synchronous playback, and HDMI splicing playback, supporting multiterminal control and release programs.
The standard configuration of dual-band Wi-Fi supports the mobile phone APP – "LedArt" wireless control; supports mobile phone/tablet wireless screen display; supports access to the "Xiaohui Cloud" platform, easy to achieve Internet remote cluster management; The capacity storage space makes asynchronous playback worry-free; it supports external connection of various environmental monitoring sensors to realize real-time viewing of ecological monitoring data.
A6L has high video playback performance, added terminal network security protection mechanism, simple software operation, complete functions, and ultra-high cost performance. It can
be applied to LED displays in various commercial displays, smart displays, and other fields.
Ⅱ. Product Features
Input:
1. Support 1 Gigabit communication network port for debugging parameters, faster program sending speed;
2. Support 1 HDMI IN input interface, support automatic zooming of synchronous pictures, and support synchronous and asynchronous picture-in-picture functions;
3. Support 1 channel HDMI LOOP IN input interface, support any resolution synchronous picture,support splicing and cascading;
4. Support 1 channel USB2.0 (custom OTG/USB mode), 1 channel USB3.0 communication interface,which can be used for inserting programs and expanding capacity;
5. Supports 2 channels sensor input interface, externally connected to various environmental monitoring sensors.
Output:
1. Standard 4 Gigabit output network ports, directly cascaded HD-R series receiving card controldisplay;
2. The maximum control range is 2.3 million pixels, the maximum horizontal (discounted) support is 16384 pixels, and the maximum vertical support is 4096 pixels;
3. 1 channel TRS 3.5mm standard two-channel audio output;
4. 1 channel HDMI signal output, which can be used for data source or screen monitoring of HDMI input interface.
Functions:
1. Standard 2.4GHz and 5GHz Wi-Fi, support mobile phone APP wireless control (support STA mode, in this mode, the device can connect to the nearby Wi-Fi network);
2. Support HDMI splicing, used for LED advertising machine to realize multi-screen splicing playback;
3. Support multi-channel video window playback (support up to 2-channel 4K or 6-channel 1080P or 10-channel 720P or 20-channel 360P);
4. Support synchronous and asynchronous switching playback;
5. Support 4G/5G (optional) access to Xiaohui Cloud platform to realize Internet remote cluster management;
6. Support mobile phone, tablet and computer wireless projection.
Electrical parameters

Input power

DC 5V-12V

Maximum power consumption

18W

Storage Space

Random access memory

2GB

Internal storage

16GB

Storage environment

Temperature

-40℃~80℃

Humidity

0%RH~80%RH (No condensation)

Working environment

Temperature

-40℃~70℃

Humidity

0%RH~80%RH (No condensation)

Packaging information

list:
1×A6L
1 x HDMI cable
1 x power adapter
1×WiFi Glue Stick Antenna
1× Certificate of qualification
Note: 4G/5G antennas are optional with 4G/5G modules 1/4

Size

287mm×140.3mm×42.3mm

Net weight

1004g

Protection degree

IP20
Please pay attention to water resistance, e.g. prevent water dripping into the product, do not get wet or rinse the product

System software

Android11.0 operating system software
Android terminal application software
FPGA software