Description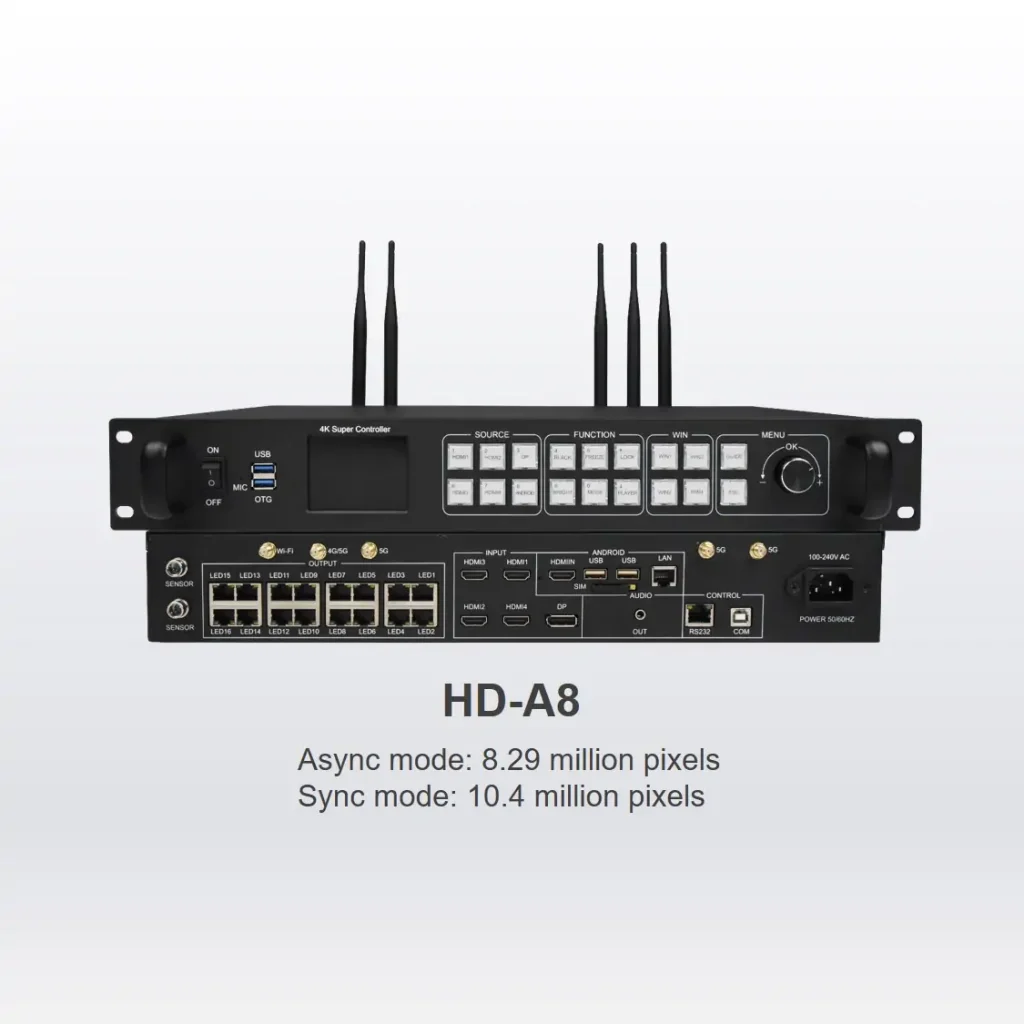 Ultra-large resolution loading capability supports 4K asynchronously (8.29 million pixels), and synchronously supports 10.4 million pixels;
Equipped with dual-band Wi-Fi, support mobile APP wireless control;
Supports wireless screen projection on mobile phones and tablets;
Support intelligent voice control; Bluetooth wireless remote control;
With 32GB storage, support U disk expansion and insertion;
HDMI/DP high-definition video input synchronous playback;
Support HD video hard decoding, up to 60fps;
No need for complex network settings, automatic device identification, plug and play;
Support LAN or Internet cluster management; support optional 5G network module;
Equipped with Standard 3.5mm standard audio output interface.
1. Internet remote cluster control: A8 4K Super Master can be connected to the Internet through 4G/5G (optional), network cable connection, and Wi-Fi Bridge (Station mode).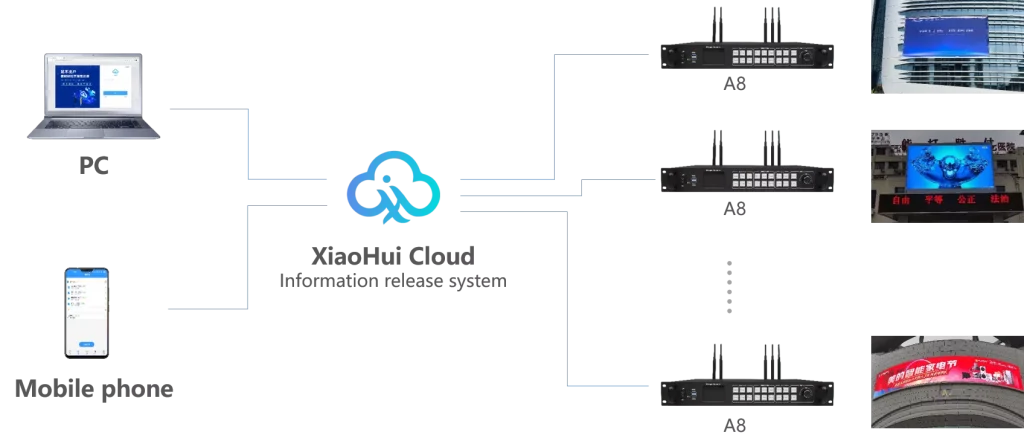 2. Asynchronous control: update the program through a network cable connection, Wi-Fi connection, and U disk. The local area network (cluster) control can be connected to the local area network through a network cable connection and Wi-Fi bridge.

3. Real-time screen synchronization display: support HDMI/DP signal input synchronization playback, support 4 video screen playback and multi-channel synchronization signal switch arbitrarily.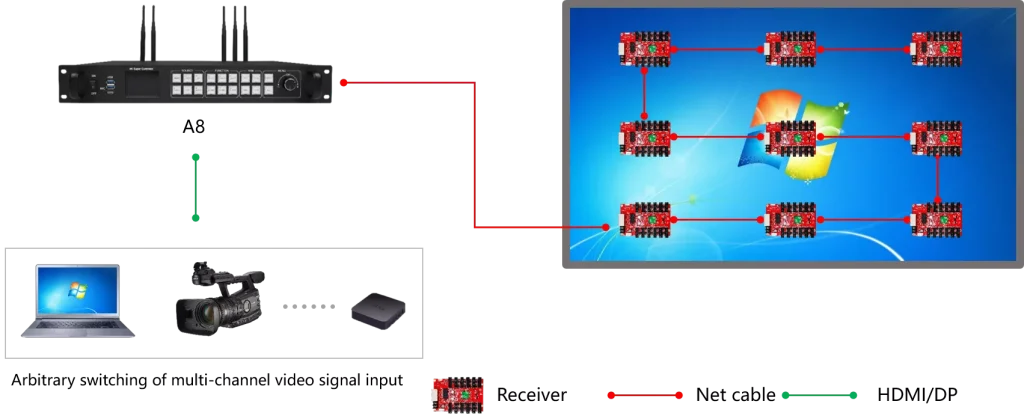 4. Screen projection display: The display content of the mobile phone/tablet is wirelessly projected to the display screen.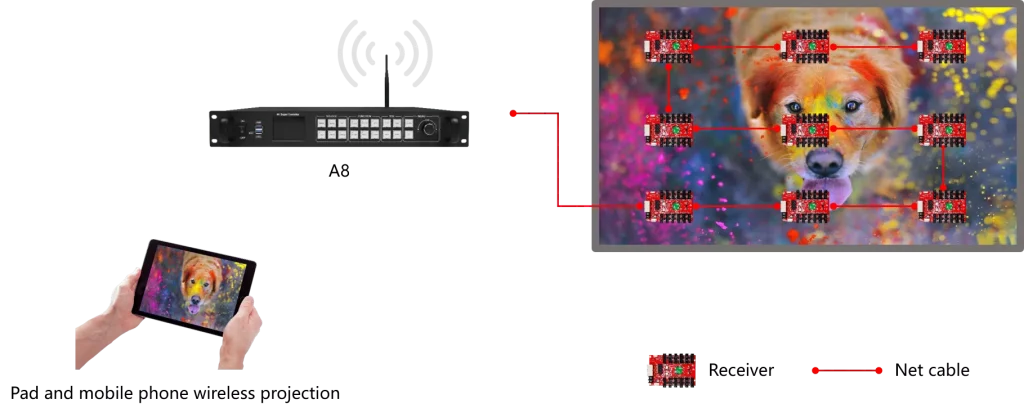 Function

Parameter

Loading capacity

Asynchronous: 4K playback (3840*2160), maximum width   15360

Sync: 10.4 million pixels, the widest 16000,

Display

Function

Support   basic functions such as video, picture, Gif animation, text, office document,   clock, timing, etc.; support HTML and video streaming;

Support   2 channels of 4K video playback at the same time, support 6 channels of 1080P   video playback at the same time, support 8 channels of 720p video windows to   play simultaneously;

Support   external remote control, temperature, humidity, brightness, noise, PM value,   GPS and other extended functions.

Video format

Support   HD video hard decoding, up to 60Hz frame rate output;

Supports   all common formats such as AVI, WMV, RMVB, MP4, 3GP, ASF, MPG, FLV, F4V, MKV,   MOV, DAT, VOB, TRP, TS, WEBM, etc.

Image Format

Support   BMP, GIF, JPG, JPEG, PNG, PBM, PGM, PPM, XPM, XBM, etc.

Text

It   supports text editing, image insertion, and direct import of text such as   word, txt, rtf, and html.

Documentation

Support   DOC, DOCX, XLSX, XLS, PPT, PPTX and other Office2007 document formats.

Clock

Supports   analog clock, digital clock and various dial clock functions.

Audio

HDMI   audio input, two-channel stereo output.

Storage capacity

Equipped   with 32GB storage, and support for U disk expansion.

Communication type

Ethernet   port, U disk, Wi-Fi, 4G/5G (optional), HDMI/DP synchronization.

voice control

Screen   on/off, program switching, playing program, brightness setting, volume   adjustment, etc.

Wireless projection

Mobile,   tablet.

 Interface

IN:AC 100~240V,USB3.0*1,USB2.0*2,OTG*1,RJ45*1,RS232*1,HDMI*5,DP*1,Sensor*2、Audio*1;

OUT:RJ45*16,Audio*1.

Working power

72W