Description

Colorlight C10 Player Overview
C10 supports program edition and publishing through LEDVISION, and it supports program formats such as video, image, text, table, weather, clock and etc. Colorlight C10 Player supports multiple play windows and windows overlap, size and location can be freely set.
C10 can be set as AP Mode, supports program management and parameters setting via smartphone, tablet, PC, etc.


C10 supports U disc plug and play, program update and management through wired network.
As a new networked control system, Colorlight C10 Player has many advantages in applications of LED advertising screens.
Features
Breakthroughs
Professional B/S structure, can connect to Internet through 1000M Ethernet port/WiFi and achieve cloud services cluster management
Support output display resolution up to 3840×2160@60Hz
Build-in storage of 8G, and support play through USB
Support 10bit HD video
Security and Stability
Made all from industrial electronic elements, quality assured
Authorized certification, encrypted data channel
Multi-level authorization management, programs are published after review
Real-time broadcast contents monitoring, immediate feedback on operating status
Intelligent Control & Easy Management
U disc plug and play
Can be set as AP Mode, support program management via smartphone, tablet, PC, etc.
Easy Program Management
Program through LEDVISION, easy to do
Multiple play windows, of which size and location can be freely set. Overlap supported
Multiple program formats such as video, image, text, clock and etc.
Multiple program play window
Specifications
Basic Parameters
Core Chip
Hexa-core CPU, Quad-core GPU, 4G DDR

Support 4K HDR video decoding, 1080P video decoding play

Interfaces
USB Ports
2×USB2.0, 1×USB3.0, support external U disc storage or communication equipment
Fiber Interface
Audio signal output
Type-C Port
Screen parameters setting, program publishing
HDMI2.0 Output
Connecting with the screen

Support 4K 60Hz framerate, support HDCP 1.4/2.2

1000M Ethernet Port
Access network
WiFi
2.4G/5G dual-band, support AP mode and station mode
Physical Parameters
Dimension
160 x 94 x 26 mm
Working Voltage
DC12V/2A
Rated Power
15W
Weight
0.57kg
Working Temperature
-20℃~60℃
Environmental Humidity
0~95% without condensation
File Format
Program Split
Support flexible program windows split, support flexible windows overlapping, support multiple programs play
Video Formats
Common formats such as MOV, MP4, TS, H264, H265 and etc.

Support one 4K video decoding

Support multiple videos play at the same time

Audio Formats
MPEG-1 Layer III, AAC, etc.
Image Formats
bmp, jpg, png, etc.
Text Formats
txt, rtf, word, ppt, excel, etc. (*Use with LEDVISION)
Text Display
Single line text, static text, multiple line text, etc.
Screen Split
4 video windows, multiple picture/text windows, scrolling text, Logo, date/time/week. Flexible screen split can be achieved and different contents display in different area
OSD Supported
Support video/picture/text mixture or overlap with fully transparent, opaque, translucent effects
RTC
Support real time clock
Terminal Management & Control
Communication
1000M Ethernet port/WiFi
Program Update
Update program through USB or network
Management Devices
Smart terminals like PC, Android, iOS and etc.
Wireless Control
Screen switch on/off display, setup configuration, play control, wireless program sending
Timing Play
Play according to scheduled programs
Timing Switch on/off
Supported
Software
LEDVISION 6.8 (4K)
Hardware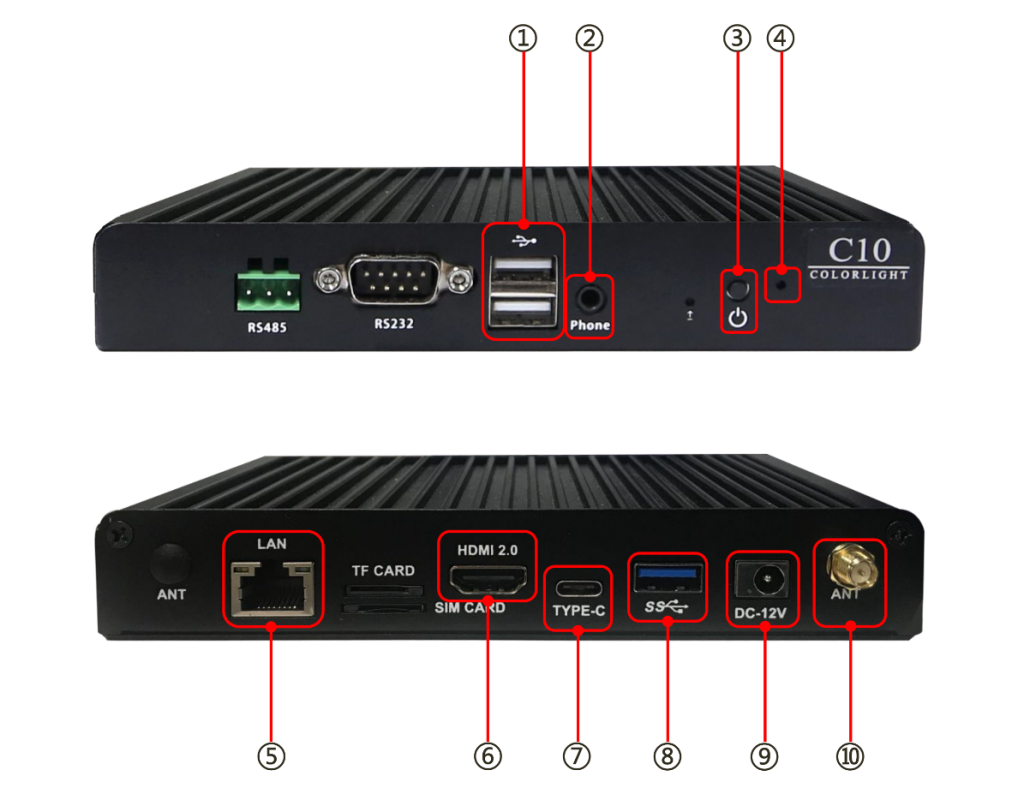 Interface Description
| | | |
| --- | --- | --- |
| No. | Name | Functions |
| 1 | USB Port | 2×USB2.0, Program updating through U disc |
| 2 | Phone | Audio signal output |
| 3 | Power Switch | Power on/off |
| 4 | Indicator Light | Normal functioning |
| 5 | LAN | 1000M Ethernet Port |
| 6 | HDMI 2.0 | HDMI signal output |
| 7 | TYPE-C | Screen parameters setting, program publishing |
| 8 | USB Port | 1×USB3.0, Program updating through U disc |
| 9 | DC-12V | Power Supply Port(DC5.5 × 2.1mm) |
| 10 | ANT | Connect with WiFi antenna |
Dimension
Unit: mm