Description
CM25 IoT/M2M-optimized LTE Cat 4 Module Overview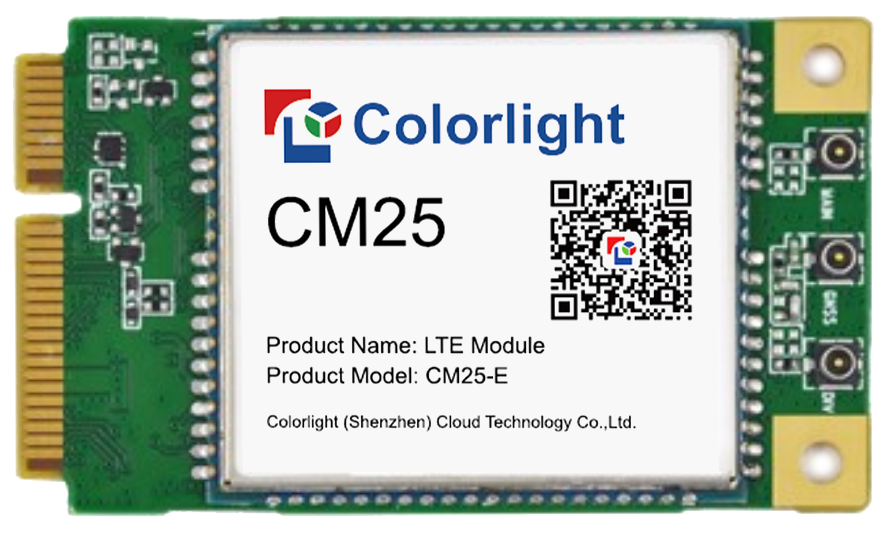 colorlight CM25 contains 4 variants: CM25-J, CM25-E, CM25-AU and CM25-A. This makes it backward-compatible with existing EDGE and GSM/GPRS networks, ensuring that it can be connected even in remote areas devoid of 4G or 3G coverage.
colorlight CM25 supports Qualcomm® IZat™ location technology Gen8C Lite (GPS, GLONASS, BeiDou, Galileo and QZSS). The integrated GNSS greatly simplifies product design, and provides quicker, more accurate and more dependable positioning.
A rich set of Internet protocols, industry-standard interfaces and abundant functionalities (USB drivers for Windows XP, Windows Vista, Windows 7, Windows 8/8.1, Windows 10, Linux, Android/eCall*) extend the applicability of the module to a wide range of M2M applications such as industrial router, industrial PDA, rugged tablet PC, video surveillance and digital signage.
Features
LTE category 4 module optimized for broadband IoT applications;
Worldwide LTE, UMTS/HSPA+ and GSM/GPRS/EDGE coverage;
Standard PCI Express® MiniCard form factor (Mini PCIe) ideal for manufacturers to easily integrate wireless connectivity into their devices;
MIMO technology meets demands for data rate and link reliability in modem wireless communication systems;
Multi-constellation GNSS receiver available for applications requiring fast and accurate fixes in any environment.
Specifications
General Features
Frequency

Bands

CM25-E
LTE FDD: B1/B3/B5/B7/B8/B20 LTE TDD: B38/B40/B41

WCDMA: B1/B5/B8 GSM: B3/B8

CM25-J
LTE FDD: B1/B3/B8/B18/B19/B26 LTE TDD: B41

WCDMA: B1/B6/B8/B19

CM25-A
LTE FDD: B2/B4/B12 WCDMA: B2/B4/B5
CM25-AU
LTE FDD: B1/B2/B3/B4/B5/B7/B8/B28 LTE TDD: B40

WCDMA: B1/B2/B5/B8 GSM: B2/B3/B5/B8

LTE Version
3GPP E-UTRA Release 11
Bandwidth
1.4/3/5/10/15/20MHz
Antenna
DL MIMO, supports Rx-diversity, GNSS
Supply Voltage Range
3.0V~3.6V, 3.3V Typ.
Operation Temperature
-40°C ~ +80°C
Dimensions
51.0mm × 30.0mm × 4.9mm
Weight
Approx. 9.8g
Control via AT commands
3GPP TS27.007 and enhanced AT commands
Specifications
Data
LTE
LTE FDD: Max 150Mbps (DL) Max 50Mbps (UL)

LTE TDD: Max 130Mbps (DL) Max 35Mbps (UL)

DC-HSPA+
Max 42Mbps (DL) Max 5.76Mbps (UL)
UMTS
Max 384Kbps (DL) Max 384Kbps (UL)
EDGE
Max 236.8Kbps (DL) Max 236.8Kbps
GPRS
Max 85.6Kbps (DL) Max 85.6Kbps (UL)
Voice
Speech Codec

Modes

HR, FR, EFR, AMR, AMR-WB
Echo Arithmetic
Echo Cancellation

Noise Reduction

eCall *
Accident, Emergency Services
VoLTE*
Digital Audio and VoLTE (Voice over LTE) (Optional)
Protocols
TCP/ UDP/ PPP/ FTP/ HTTP/ NTP/ PING/ QMI/ HTTPS*/ SMTP*/ MMS*/ FTPS*/ SMTPS*/ SSL*
Special Features
Drivers
USB Serial
Windows XP, Windows Vista, Windows 7, Windows 8/8.1, Windows 10, Linux 2.6 or later, Android 4.0/4.2/4.4/5.0/5.1/6.0
RIL
Android 4.0/4.2/4.4/5.0/5.1/6.0
NDIS
Windows XP, Windows Vista, Windows 7, Windows 8/8.1, Windows 10
ECM
Linux 2.6 or later
Gobinet
Linux 3.4 or later
Lunuz qmi wwan
Linux 3.4 or later
DFOTA*
Delta firmware upgrade over the air
BT4.0*/Wi-Fi
Optional
GNSS
GPS/GLONASS/BeiDou/Galileo/QZSS
Interfaces
USB 2.0 Device
High Speed, 480Mbps
PCM
×1, Digital Audio through PCM Interface (Optional)
USIM
1.8V/3V
LED_WWAN#
Network Status Indication
W_DISABLE#
Disable RF Function
UART
×1, UART
PERST#
Reset Pin
Electrical Characteristics
Output Power
Class 3 (23dBm±2dB) for LTE

Class 3 (24dBm+1/-3dB) for UMTS

Class E2 (27dBm±3dB) for EDGE 850/900MHz

Class E2 (26dBm±3dB) for EDGE 1800/1900MHz

Class 4 (33dBm±2dB) for GSM 850/900MHz

Class 1 (30dBm±2dB) for GSM 1800/1900MHz

Consumption
3.6mA @Sleep.Typ.

35mA @Idle

Sensitivity
LTE B1: -101dBm (10M) LTE B2: -101dBm (10M)

LTE B3: -100dBm (10M) LTE B4: -101dBm (10M)

LTE B5: -102.5dBm (10M) LTE B7: -98.5dBm (10M)

LTE B8: -101dBm (10M) LTE B12: -101dBm (10M)

LTE B13: -100dBm (10M) LTE B20: -102.5dBm (10M)

LTE B28: -102dBm (10M) LTE B38: -100dBm (10M)

LTE B40: -101dBm (10M) LTE B41: -99dBm (10M)

UMTS B1: -110dBm UMTS B2: -110dBm

UMTS B4: -110dBm UMTS B5: -110.5dBm

UMTS B8: -110.5dBm GSM: -109dBm

DCS: -109dBm