Description
colorlight 3D Emitter Overview
There are three interfaces above the  colorlight  3D generator, which are LAN IN, 3D IN, USB and a rotary 3D OUT  switch.Below is a real shot picture of colorlight 3D emitter products: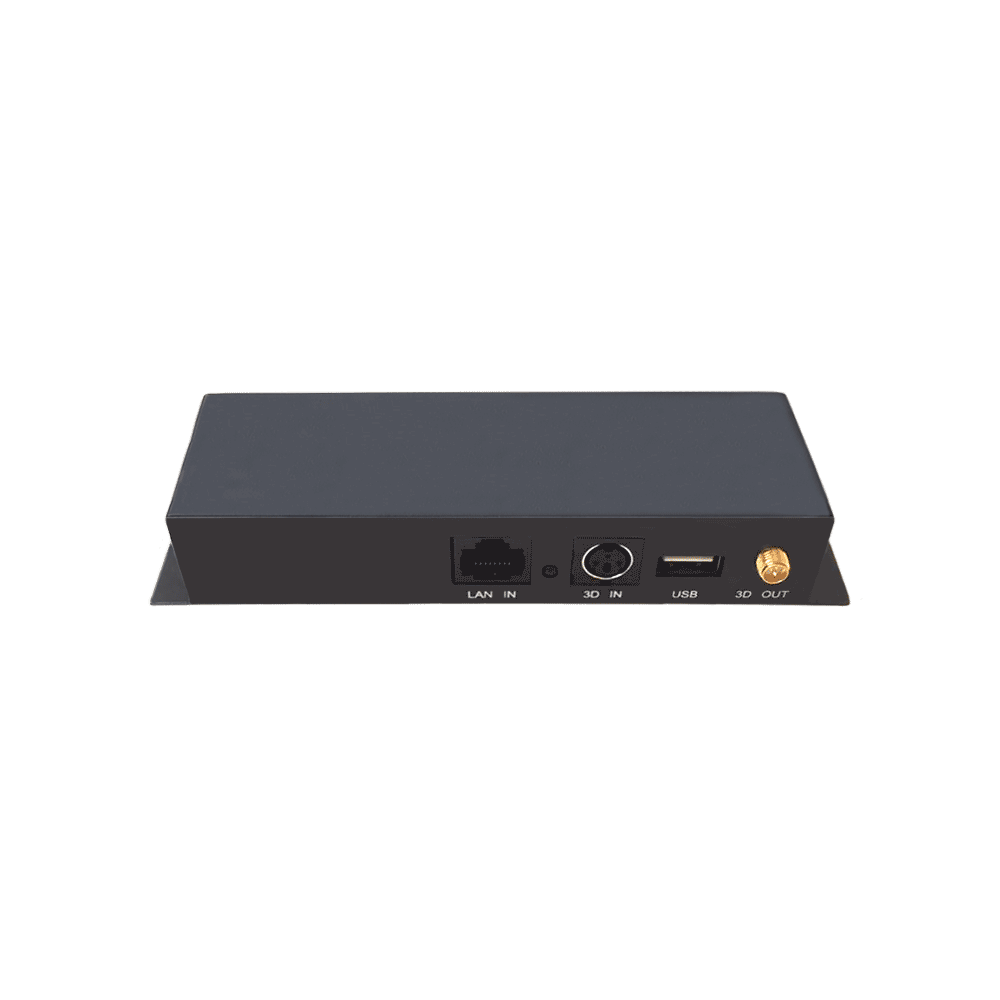 When we usually watch that kind of 3D video pictures, the pictures directly watched are not very clear, because some 3D pictures are red and blue stereoscopic movies, such pictures are red and blue misaligned.
Such red and blue stereoscopic movies generally have red lenses for the left eye and blue for the right eye. The picture is also that the red lens can only pass red light, and the blue lens can only pass blue light. In this way, the left eye lens will filter out the blue content of the picture and only see the red part, and the right eye will filter out the red part, and only the blue part will be seen. The left and right eyes see different pictures and produce a three-dimensional effect. The use of 3D glasses can help us correct this problem and make the video image clear and three-dimensional.
This 3D glasses launched by Colorlight uses lightweight acrylic material, and the lens is loaded with light and thin horizontal and vertical polarizers, so after wearing it, it does not feel heavy, but feels very comfortable and beautiful. Let's take a look at some information about 3D glasses
Features
Flexible transmit power antenna for options
Designed with high reliability
Auto-Pairing and Syncing
Specifications
Working Frequency
2.45G +- 500 MHz
Transmission Speed
100K Hz
Transmission Radius
90m(Unobstructed)
Transmit Power
0.1W MAX
Antenna Gain
2DB 5DB 8DB 12DB 14DB for options
Transmission Viewpoint
360°
Synchronous Mode
Time-Sync with Interval Sweep Mode
Working Temperature
-10℃~70℃
Working Humidity
10%~90% humidity
Interface Supported
DIN3 3D synchronous interface

DB37 3D synchronous interface

DB25 3D synchronous interface

DB15 3D synchronous interface

Working Voltage
4.5~5.5V
Working Current
40mA~100mA
Weight
0.17KG
Size
151mm*50mm*25mm
Interfaces Description
| | | | |
| --- | --- | --- | --- |
| No. | Name | Function | Remarks |
| ① | 3D IN | Connect to 3D sender for synchronizing signal | / |
| ② | 3D OUT | Connect to 3D transmitting antenna | / |