Description
9.6 million pixels splicing output
01
Optional Windows-minimized and roaming; Largest connection Resolution 30720 * 640 @ 60Hz 、 9216 * 2304 @ 60Hz 6144 * 3072 @ 60Hz 4096 * 3840 @ 60Hz 21.0 million pixels can customize the resolution
Multi-screen Display Control
02
Kystar Dual 4K Splicing Processor K2 supports  simultaneous display of any four signals. It can complete display 4 windows on a screen or control 4  LED screen at the same time.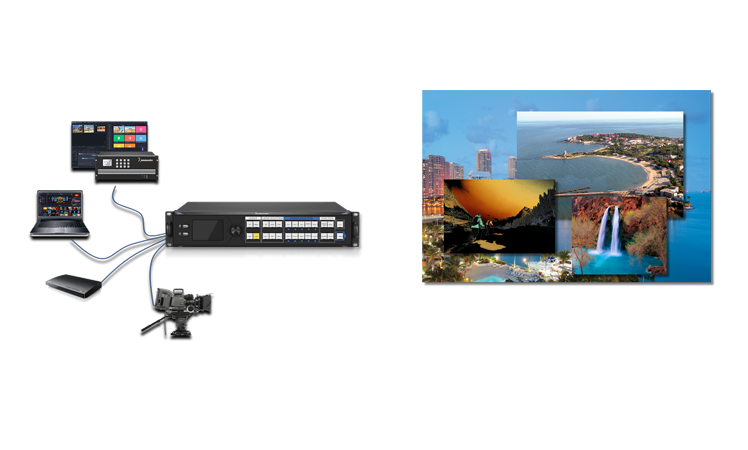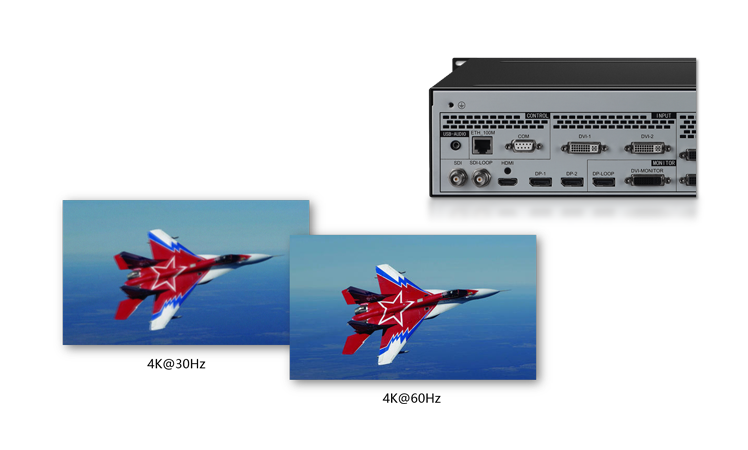 Dual 4K UHD Processing Core
03
Support DP1.2*2,HDMI1.4*2,HDMI1.3*1,VGA*1,SDI*1,ext*1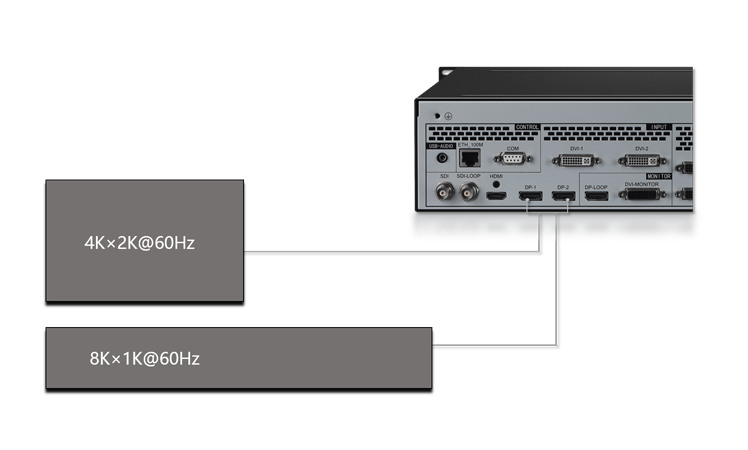 EDID Editing Of Inputs
04
Inputs of Kystar Dual 4K Splicing Processor K2 support EDID customized editing, which enables DP signal to support the resolution of 8K *1K@60Hz.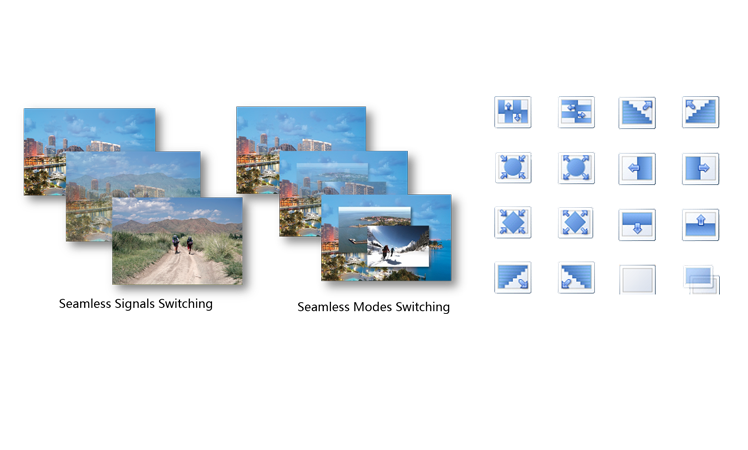 Seamless Switching of Signals and Modes
05
K2 supports more than ten kinds of switching effects that can achieve seamless switching between different signals or even between different presets.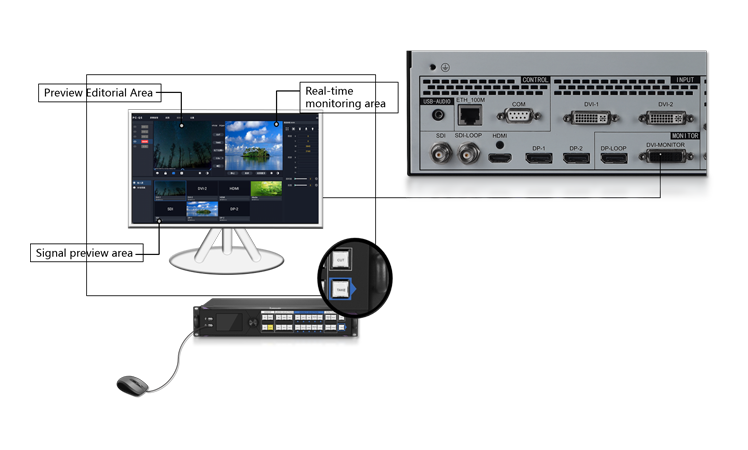 Built-in Visual Editing System
06
K2 built-in visual editing system, through USB , users can observe the current playing screen and all input signals in real time, and complete the WYSIWYG layout operation.
In addition, Hero 1000 supports pre-editing. Users can visually edit layout and playback content in preview mode, and then play and push after confirmation.
Multimedia Playing System
07
The built-in system of K2 supports multimedia playing. Users can import multimedia files into the playback system through USB devices. These multimedia files will be displayed on the screen in the form of a physical layer.
In addition, users can create a playlist to specify the playing order of multimedia files.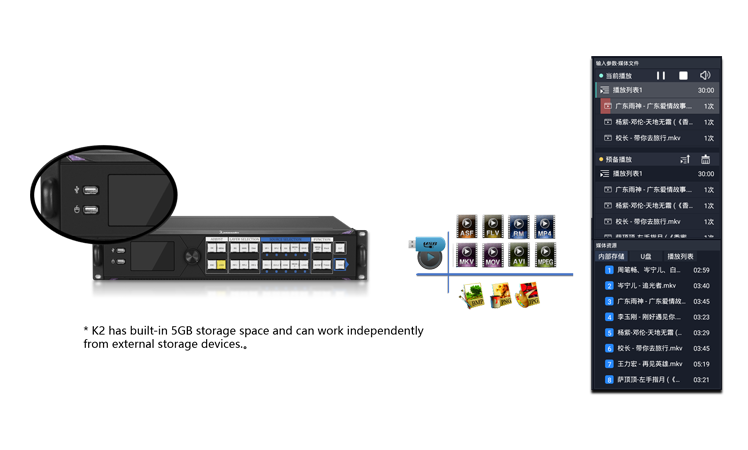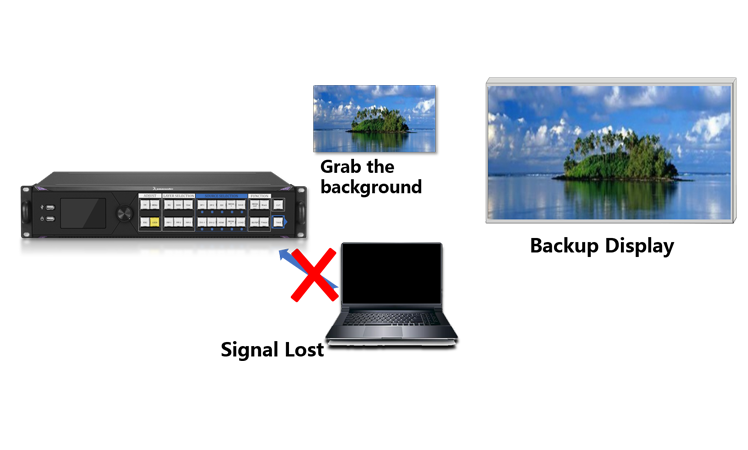 Capture Background Image For Backup
08
K2 can capture the output image and store it in the device as the background image. When the normal playing signal gets out of order, the background image can be automatically displayed on the screen as backup content.
Users can also select other videos or pictures which be already saved in K2 as backup content.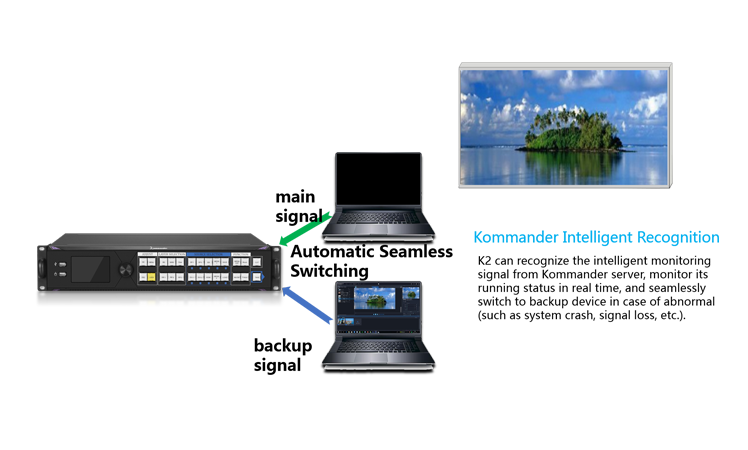 KIR Intelligent Signal Backup
09
K2 can designate any signal as the backup of the current signal. When the signal gets out of order , the backup signal can be switched on automatically.
With KIR (Kommander intelligent recognition) technology, K2 can work with Kommander media sever to form a highly reliable backup system.
16 English Windows Support input 3840 * 2160 @ 60Hz;
Supports four simultaneous 4k * 2k inputs;
Optional Windows-minimized and roaming; Largest connection Resolution 30720 * 640 @ 60Hz 、 9216 * 2304 @ 60Hz 6144 * 3072 @ 60Hz 4096 * 3840 @ 60Hz 21.0 million pixels can customize the resolution; EDID custom inputs; Image rotation and mirror functions;
Supports time and key conversion; 10 saved modes and 8 hotkey calls; Frozen and black functions; Support for SDI or USB input (optional)
Audio decoder output synchronization; Supports WIFI Control RS232 control; Support 16 card sending standard can install 8 cards standard sending application functions primary core cores connector powerful hardware 4k image quality @ 60hz Better support Input 4k * 2k input input
Ultra high resolution 4k image rotation function and normal input mirror 90 ° 180 ° mirror Horizontal 270 ° Mirror 4 layer Windows arbitrary extension and Roaming
LED screen display data and provide machine person layer Style: Class mode, a total of 8 samples. The layer setting activates the layer on/off and the other parameter.
Kystar Dual 4K Splicing Processor K2 Parameters
Mirror: Layer mirror function.
The Setup Wizard: the Setup Wizard button.
BRI: Brightness Current layer
LOCK: Main panellock button.
Input signal source First open the layer switch, then select the layer to control and select the corresponding source input signal: Gang AV 、 DP1 DP2 、 HDMI1 、 HDMI2 VGA DVI SDI/USB
BLACK/FREEZE: black screen or image freeze, which can be set in the menu. Button extension EXT. A B C D: Select the class to be operated Operation Menu
OK: Confirm button ESC: Toggle Operation Key,The Turn button: Adjust the menu parameters 0-9: Hotkey for Call mode, press the button, the corresponding mode can be called, it is also a parameter key number.
Save: Mode save mode: Revoke mode. Input signal input signal source input is network 1 DVI 2 HDMI 2 DP 1 VGA 1 AV 1 SDI/1 USB (expandable) antenna Wi-Fi audio output: 3.5 audio interface, left support and right audio channel output. Power connector Fuse Generator
power switch GND send card slot support 16 standard sending cards can install 8 send cards
Standard communication port control computer and USB Connector output 8 Channel 1 output: (DVI1-1, DVI1-2, DVI1-3, DVI1-4). 2 Output (DVI2-1, DVI2-2, DVI2-3, DVI2-4). Each channel has 2 DVI-I connections.
Application DP Input Quantity: 2 DP connectors Standard DVI 1.2 signal resolution Support VESA, 3840 * 2160 @ 60hz,
Customized edid HDMI Input Quantity: 2 HDMI signal standard HDMI 1.4 supported resolution VESA, 3840 * 2160 @ 30hz, 2560 * 1600 @ 30hz,
EDID customized DVI Input Quantity: 1 DVI-I Connector Standard DVI 1.0, HDMI 1.3 Supported resolution VESA, 1920 * 1200 @ 60hz,
EDID custom VGA input quantity: 1 VGA connector-DB15 standard signal R 、 G B 、 hsync 、 vsync: 0 to1Vpp ± 3db (Video 0, 7v + 0, 3v) Black level 75 ohm: 300mv sync tip: 0v VESA supported resolution, PC to 1920×1200
AV input (cvbs quantity : 1 standard BNC connector PAL/NTSC 1Vpp ± 3db (Video 0, 7V + 0, 3v) 75 ohm resolution is supported 480i, 576i to input
3G-SDI (option number 1 extension) standard BNC connector SD-SDI, HD-SDI 3G-SDI resolution supported 1080p 60/50/30/25/24/25 (PsF)/24 (PsF) 720p 60/50/25/24 1080i 1035i 625/525
DVI output Line quantity 8 channels-16 DVI DVI-I Connectors Standard Specification DVI 1.0 signal Resolution supported 1024 × 768 @ 60Hz 1600 × 1200 @ 60Hz 1920 × 1080 @ 60Hz 1920 × 1280 @ 60Hz Custom Resolution 1536 × 1536 @ 60Hz 2048 × 1152 @ 60Hz 3840 × 640 @ 60Hz 2304 × 1152 @ 60Hz output single : 2.65M@60Hz 2560 × 960 @ 60hz 8 Channel: 21.0M@60Hz
The whole machine weight machines packing weight 10, 0kg 15.5 kg size (mm size machine (including interface): 360mm L x 440m W x 88.1mm H
Packing size: 510mm l x 530m W x 138mm H
power supply 100v-240v AC 50/60hz
Maximum capacity 150w temperature 0 °c 45 °c moisture storage 10%- 90%
Sending Box: AMS-ltb200 led post card box SC-led external Send card power box insert 4 pcs in control system Sync key feature-can insert 4 send card to satisfy the requirment, supports most video wall control system such as LINSN,Mooncell and Dbstar. -Bulit in the famous Taiwanese brand electric Meanwell with power 7A, Power 35 W, 5 V.-Atmospheric appearance, fashionable design, thickening of the Earth's crust.