Description

X16-3D Controller
X16-3D Controller
Overview
X16-3D is a professional LED display controller. It possesses powerful video signal receiving, splicing and processing capacity, and supports multiple signal inputs up to 4096×2160 pixels; it supports two display modes: 3D and 2D, and enables ordinary LED screens to display 3D pictures; it supports HDMI, DVI and SDI, and seamless switching between signals; it supports splicing and broadcast quality scaling.
X16-3D adopts 16 Gigabit Ethernet outputs, and it supports large LED displays of 8192 pixels in maximum width and 4096 pixels in maximum height. Meanwhile, X16-3D is equipped with a series of versatile functions which can provide flexible screen control and high-quality image displays. It can be perfectly applied to high-end rental displays and high-resolution LED displays.
Features
Loading capacity: 4.44 million, maximum width: 4096 pixels,maximum height: 4096 pixels (3D mode)
Loading capacity: 8.88 million, maximum width: 8192 pixels,maximum height: 4096 pixels (2D mode)
Supports arbitrary switching between video sources, and the input images can be spliced and scaled according to the screen resolution
Supports HDCP 2.2
Hardware
The Front Panel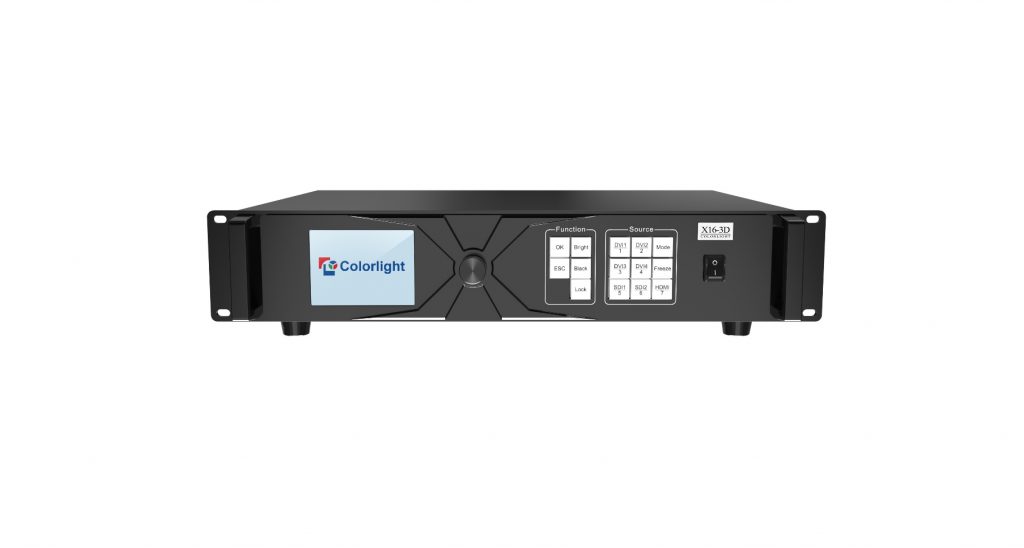 No.
Name
Function
1
3.5-inch LCD
Displays the operation menu and system information
2
Knob
Turn knob to select or adjust
3
Function Keys
OK:enter key

ESC:escape current operation or selection

Bright:brightness option

Black:blank screen

Lock:lock keys

4
Selection Keys
DVI1/DVI2/DVI3/DVI4/SDI1/SDI2/HDMI:video source selection

Mode:output mode selection of images

Freeze:freeze the screen

5
Power Switch
Power switching for equipment
The Back Panel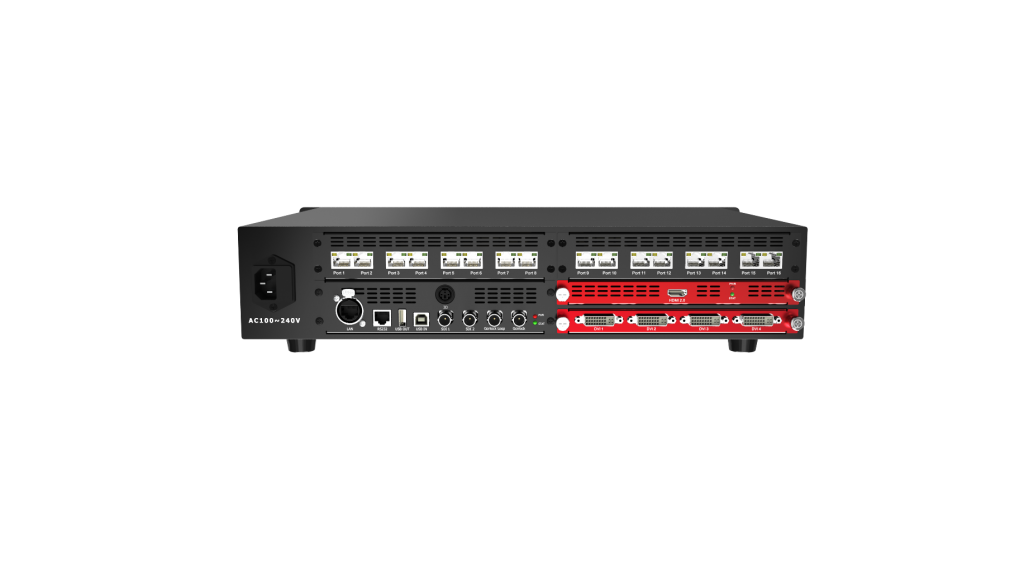 Input Interface
1
SDI
2×3G-SDI
2
HDMI
1×HDMI 2.0
3
DVI
4×DVI
Output Interface
1
Port1-16
RJ45,16 Gigabit Ethernet outputs, which can be arbitrarily spliced
Controlling Interface
1
LAN
Network control (communication with PC, or access network)
2
USB IN
USB input, which connects with PC to configure parameters
3
USB OUT
USB output, cascading with the next controller
4
Genlock
Genlock signal input ensures synchronism of display image
5
Genlock Loop
Genlock synchronous signal loop output
6
RS232
RJ11 (6P6C) *,used to communicate via 3rd party interfaces
7
3D Sync
Connect to 3D emitter
Power
1
AC 100~240V
AC Power Interface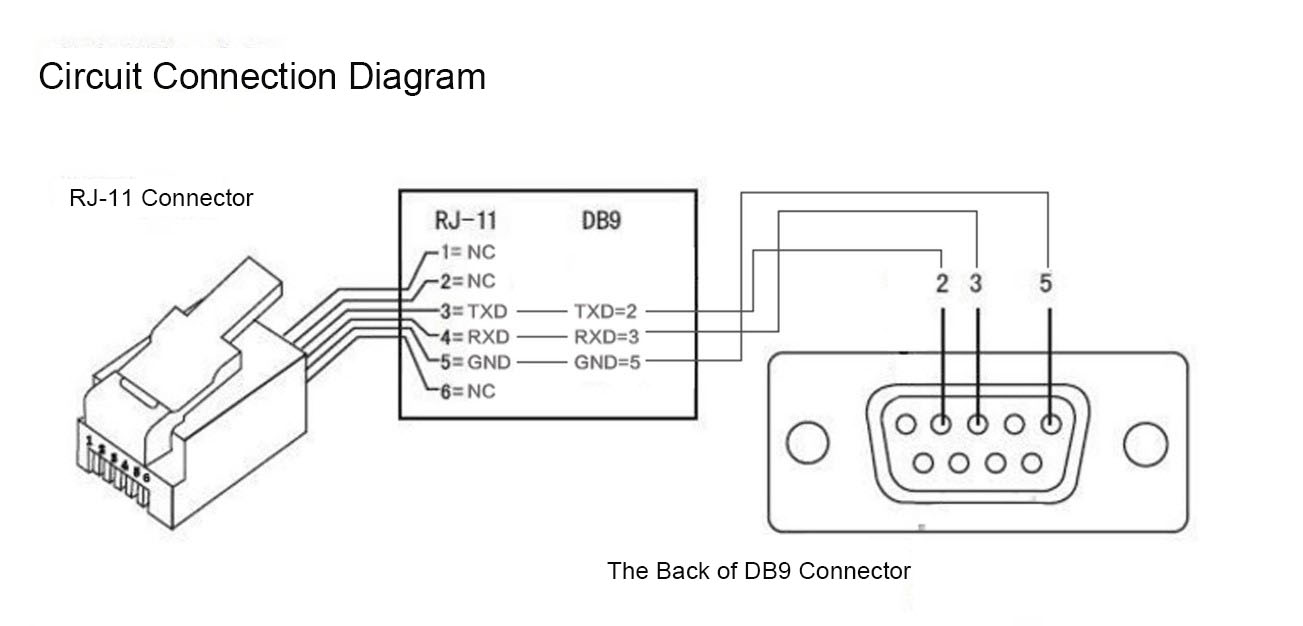 Specifications
Input Index
Port
Number
Resolution Specification
Remarks
SDI
2
1080p,1080i,720p
Supports YCbCr422
HDMI
1
EIA/CEA-861 Standard,in Accordance with HDMI-2.0 Standard,Support HDCP2.2
4096×2160@60Hz
Supports RGB444,YCbCr444, YCbCr422,YCbCr420
1920×1080@60Hz
Supports RGB444,YCbCr444, YCbCr422,YCbCr420
DVI
4
VESA Standard,Support HDCP
1920×1080@60Hz
Supports RGB444,YCbCr444, YCbCr422,YCbCr420
Specification of Complete Machine
Size
2U standard box
Input Voltage
AC 100~240V
Rated Power Consumption
70W
Operating Temperature
-20℃~60℃
Weight
9kg
Dimensions
Unit:mm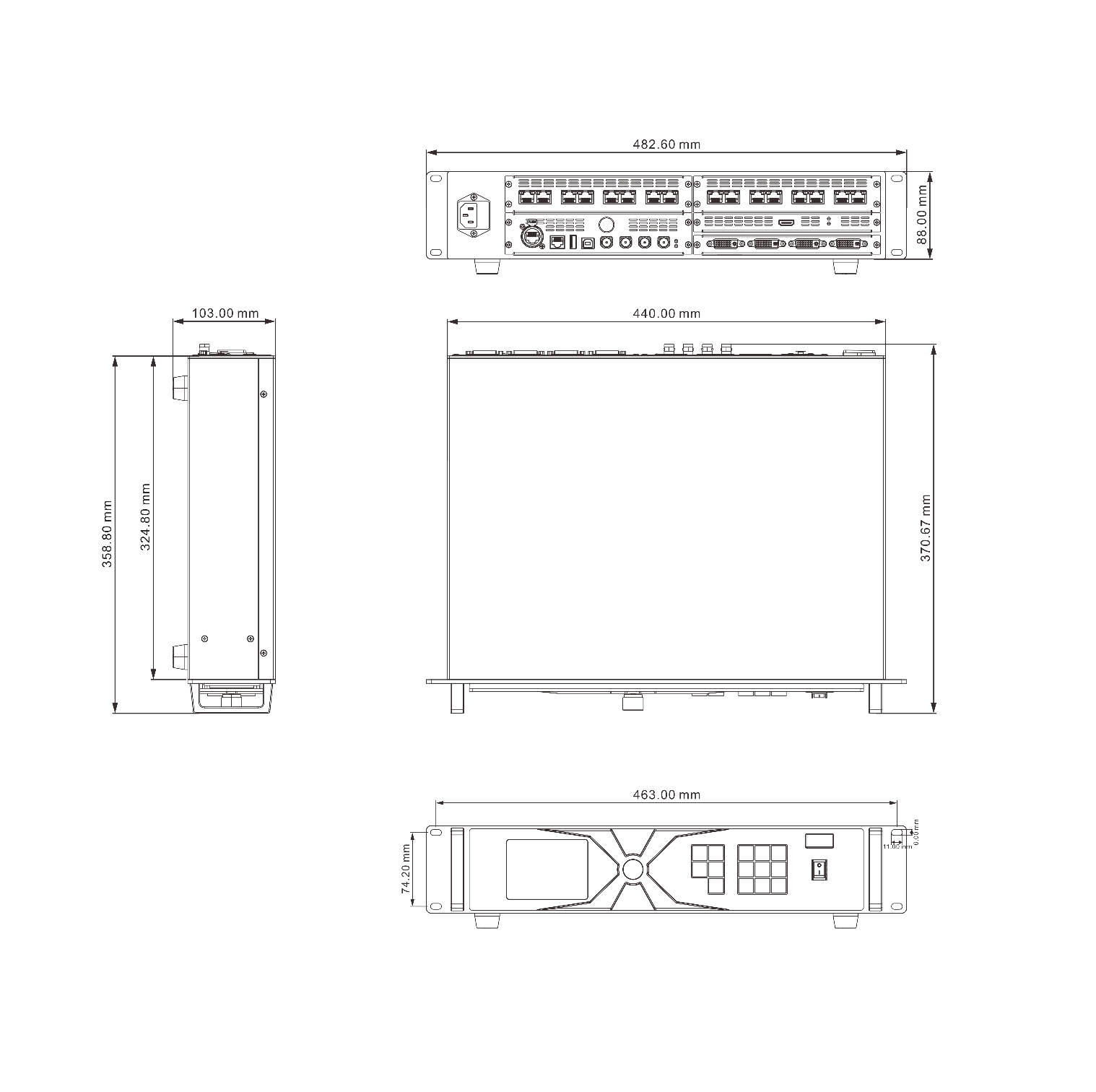 System Connection Diagram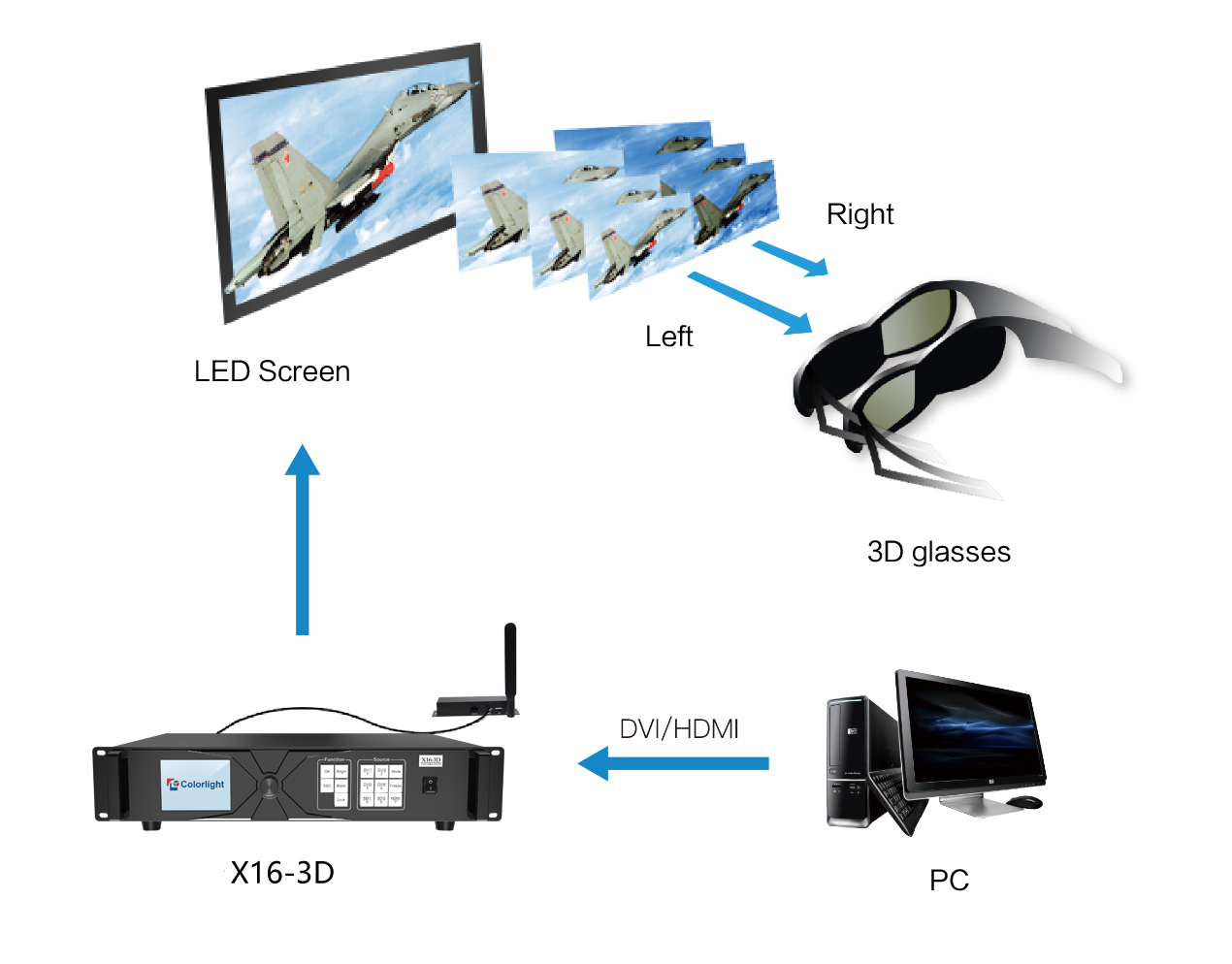 3D Emitter

①
②
| | | | |
| --- | --- | --- | --- |
| No. | Name | Function | Remarks |
| 1 | 3D IN | Connect to 3D sender to synchronize signals | Connected through VESA Cable |
| 2 | 3D OUT | Connect to 3D transmitting antenna | |
Specification
Working Frequency
2.45G +- 500 MHz
Transmission Speed
100K Hz
Transmission Radius
80m (Unobstructed)
Transmit Power
0.1W MAX
Antenna Gain
2DB
Transmission Viewpoint
360°
Synchronous Mode
Time-Sync with Interval Sweep Mode
Working Temperature
-10℃~70℃
Working Humidity
10%~90% RH
Interface Supported
DIN3 3D synchronous interface
Working Voltage
DC 4.5V~5.5V
Working Current
40mA~100mA
Weight
0.17KG
Dimensions
151mm×50mm×25mm
Active Shutter 3D Glasses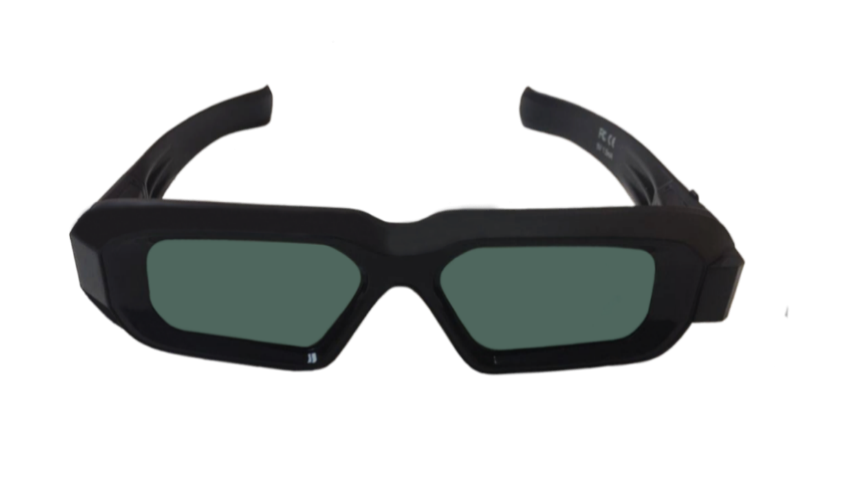 ①
②
No.
Name
Function
Remarks
1
Switch
ON/OFF
Place switch "OFF" position if it is in "ON" position at the beginning
2
Indicator light
Working indicator light
The green light flashes when the glasses work normally.

The red light is always on when the glasses are charging.
Specifications
Optical Parameters
Contrast
1000:1
LCD Screen Refresh Rate
120Hz (Standard),48Hz/50Hz/60Hz/72Hz (Self-adaption for sync signal)
Light Transmittance
35%,±2%
Response Time
2.0ms at room temperature
Viewing Angle
80°
Electric Parameters
Lithium Battery
80mAH
Charge Time
2.5Hr
Charge Current
50mA
Rated Working Voltage
3.7V
Rated Working Current
0.7mA,±0.1mA
Shutdown Current
12uA,±1.0uA
Sync Mode
RF
Received Frequency
2.4G
Receiving Sensitivity
-94.5dBm
Basic Parameters
Weight
40g,±1g
Continuous Working Time
48Hr
Working Distance
15m
Working Environment
Operating Temperature
0℃-40℃
Storage Temperature
-20℃-60℃
Working Humidity
20%-80%RH
Atmospheric Pressure
86kPa-106kPa